The famous Uncle Soon that I'm sure everyone in SS15 knows about has relocated to a small restaurant inside the building next to it.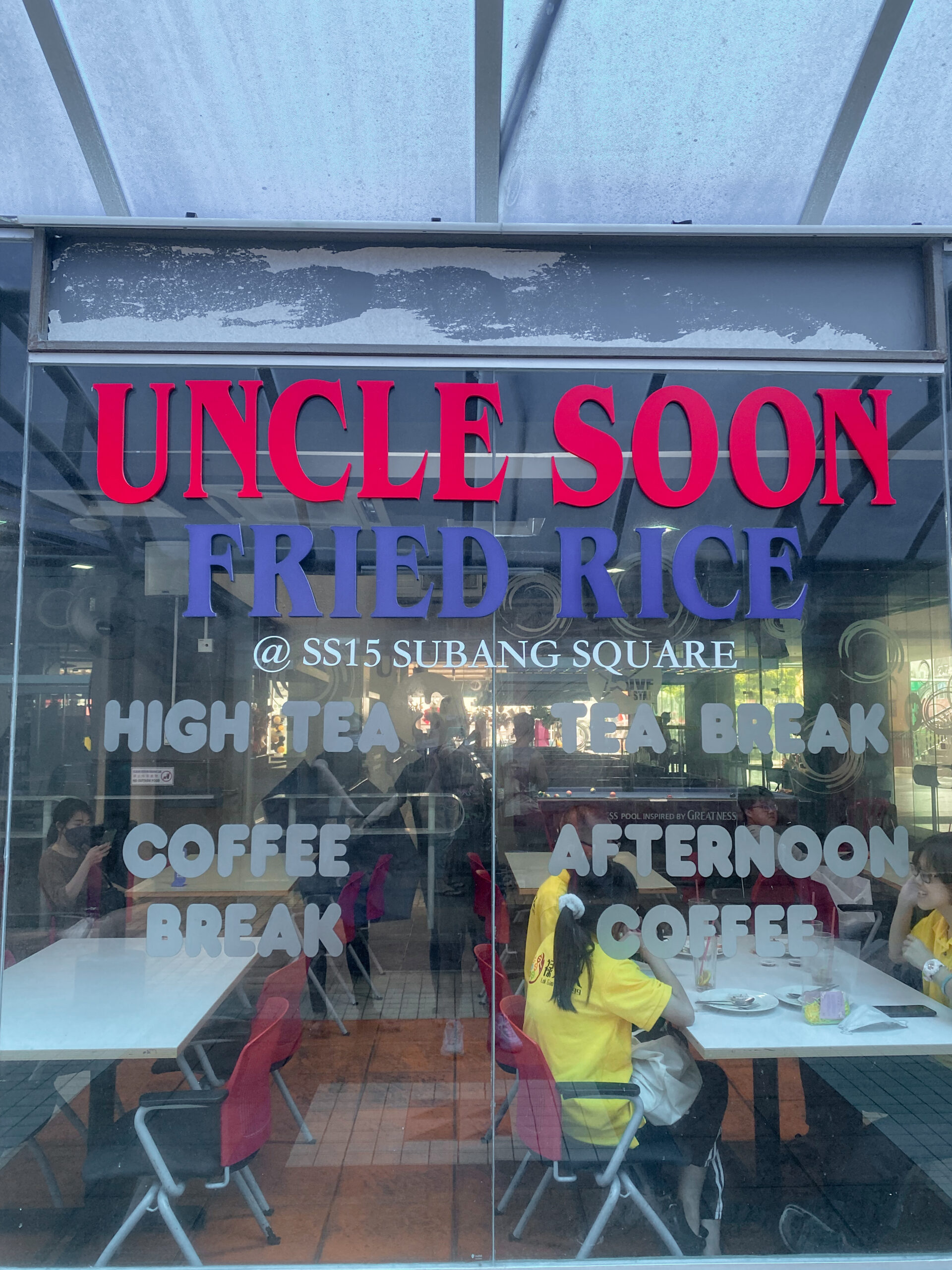 Talk about a major upgrade. Uncle Soon was previously only operating inside a hawker store.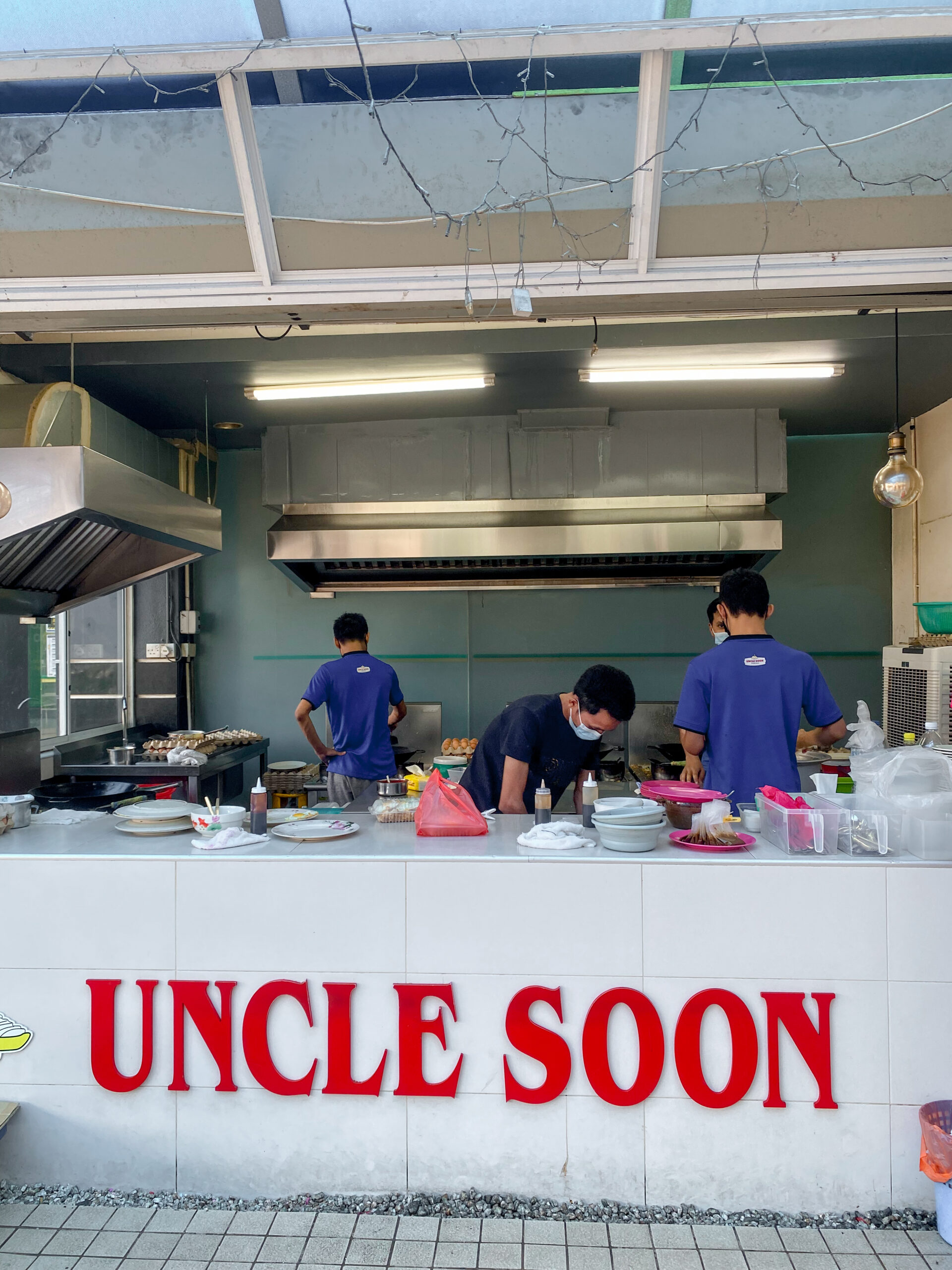 So is the fried rice actually as good as people claims it to be? Will they get our "Recommended Sticker"?
We ordered their prawn and char siew spicy fried rice and Uncle Soon did not disappoint!
Immediately when it reached our tables, the smell of fried rice saturated the whole area. That's how I knew that this was gonna be the real deal.
Whatever wok Uncle Soon was using deserves a raise because the wokhey on it was so aromatic.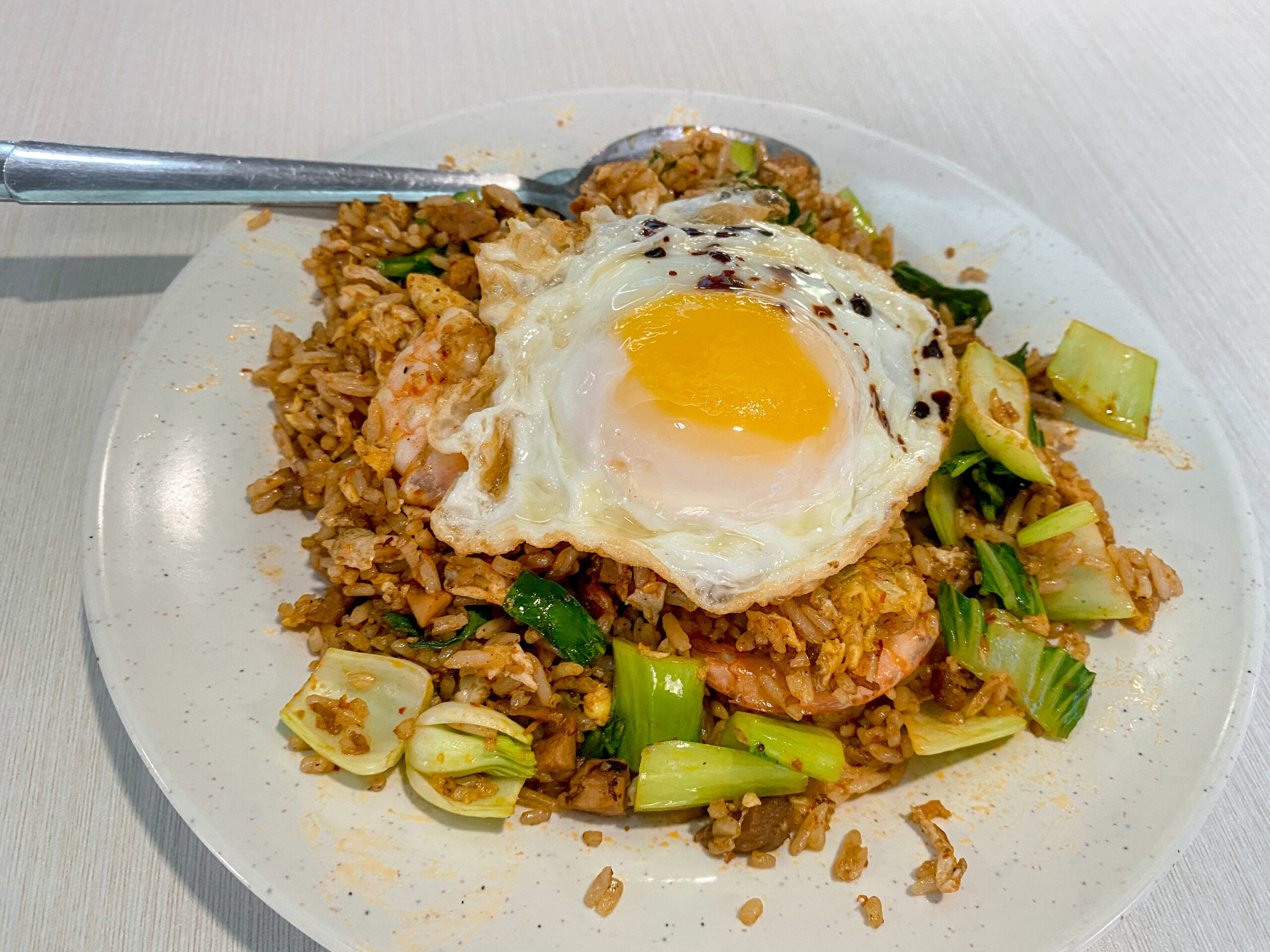 Not just that, flavors were bursting in my mouth. It was giving sweet, salty, spicy, freshness, oil, meat and vegetables all in a spoonful.
The flavors were so familiar to the tongue but at the same time, felt complex.
It had personality. It was not like some bland fried rice with no levels of aromatics.
There were 3 prawns in total, half-peeled and the char siew was very generous as well.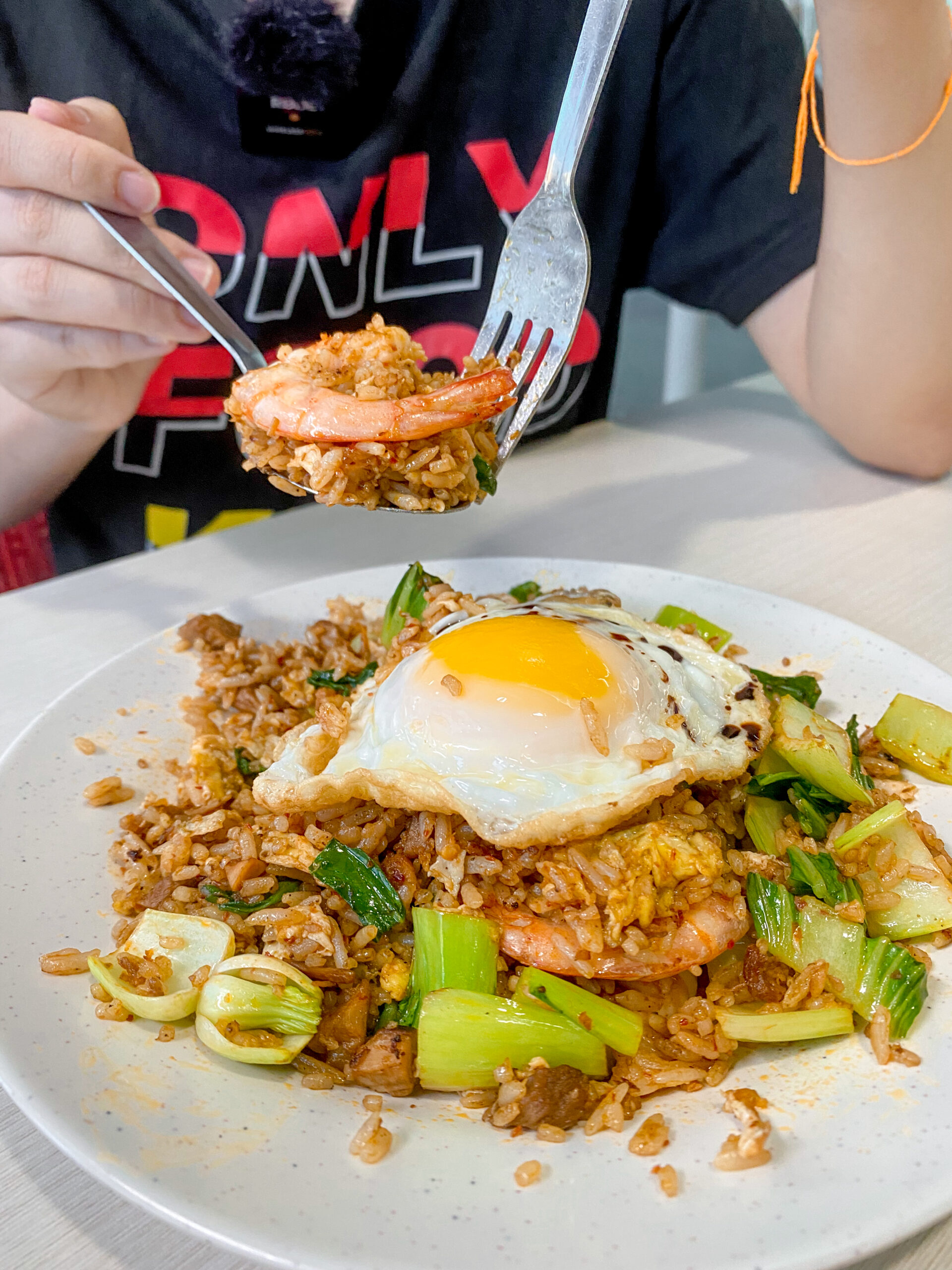 The fried egg was still runny inside, so it was perfect to mix into.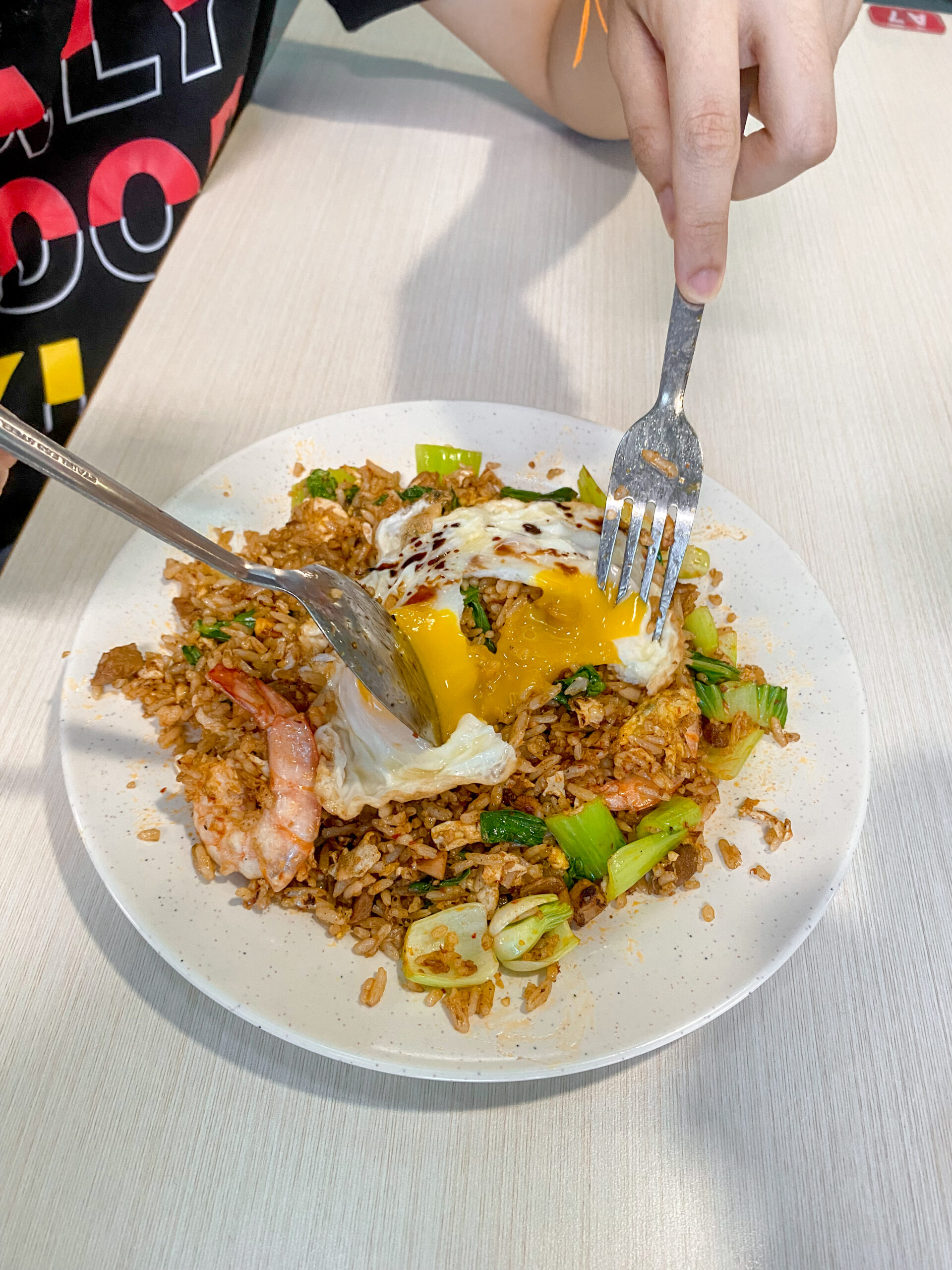 Uncle Soon really hit all the marks here.
The rice was fried to a perfect bronze-brown and had a oily glisten to it.
We asked for extra veges to get in some fibre which made the whole dish very colorful.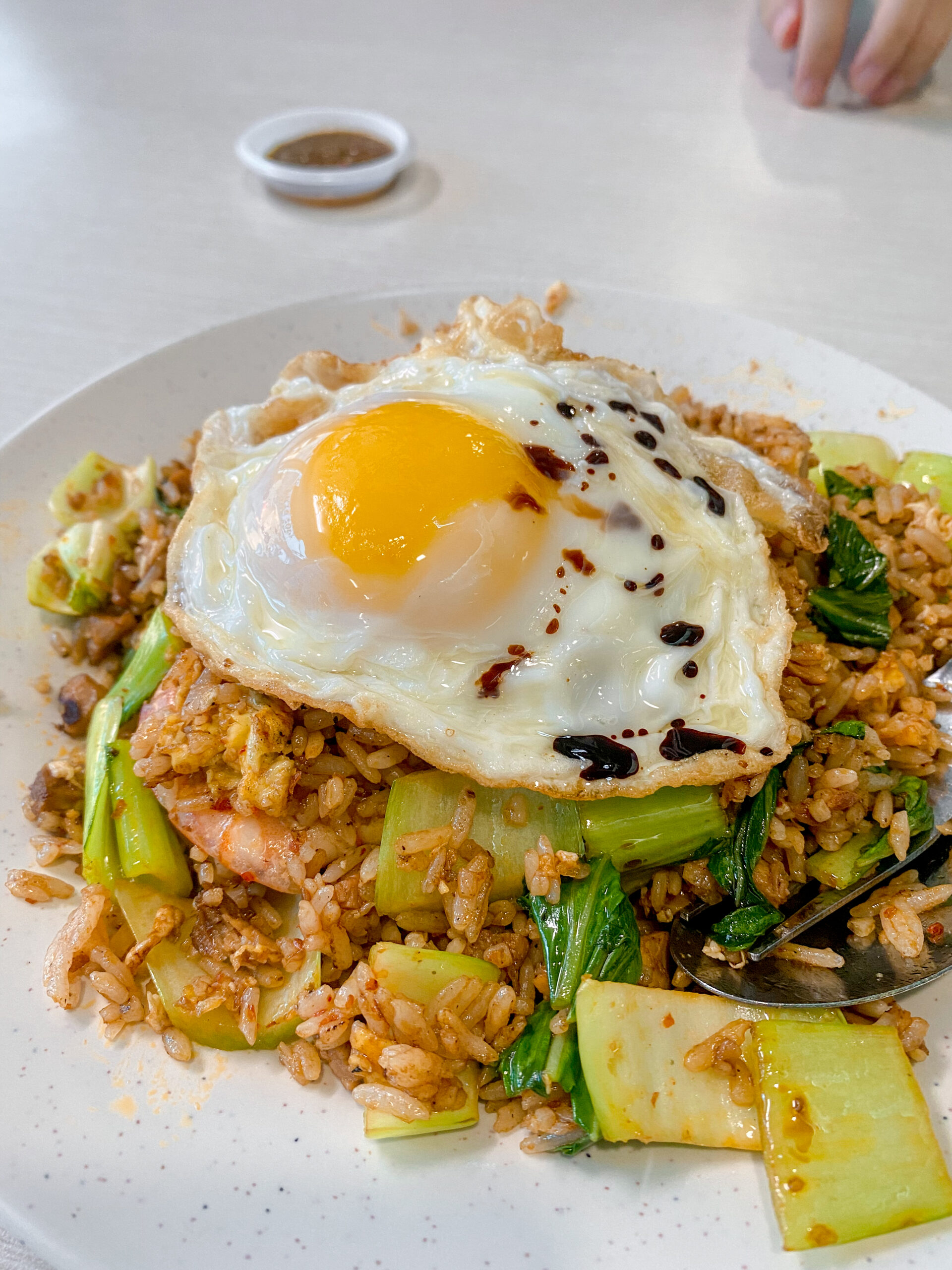 The fried egg on top also beautified it further.
It was food-porn AF.
Can we swear here? Because the food was so damn worth it!!
It was only RM12 for such a generous portion and quality taste.
Honestly, the food here is a steal and an affordable location for office workers looking to have a scrumptious lunch.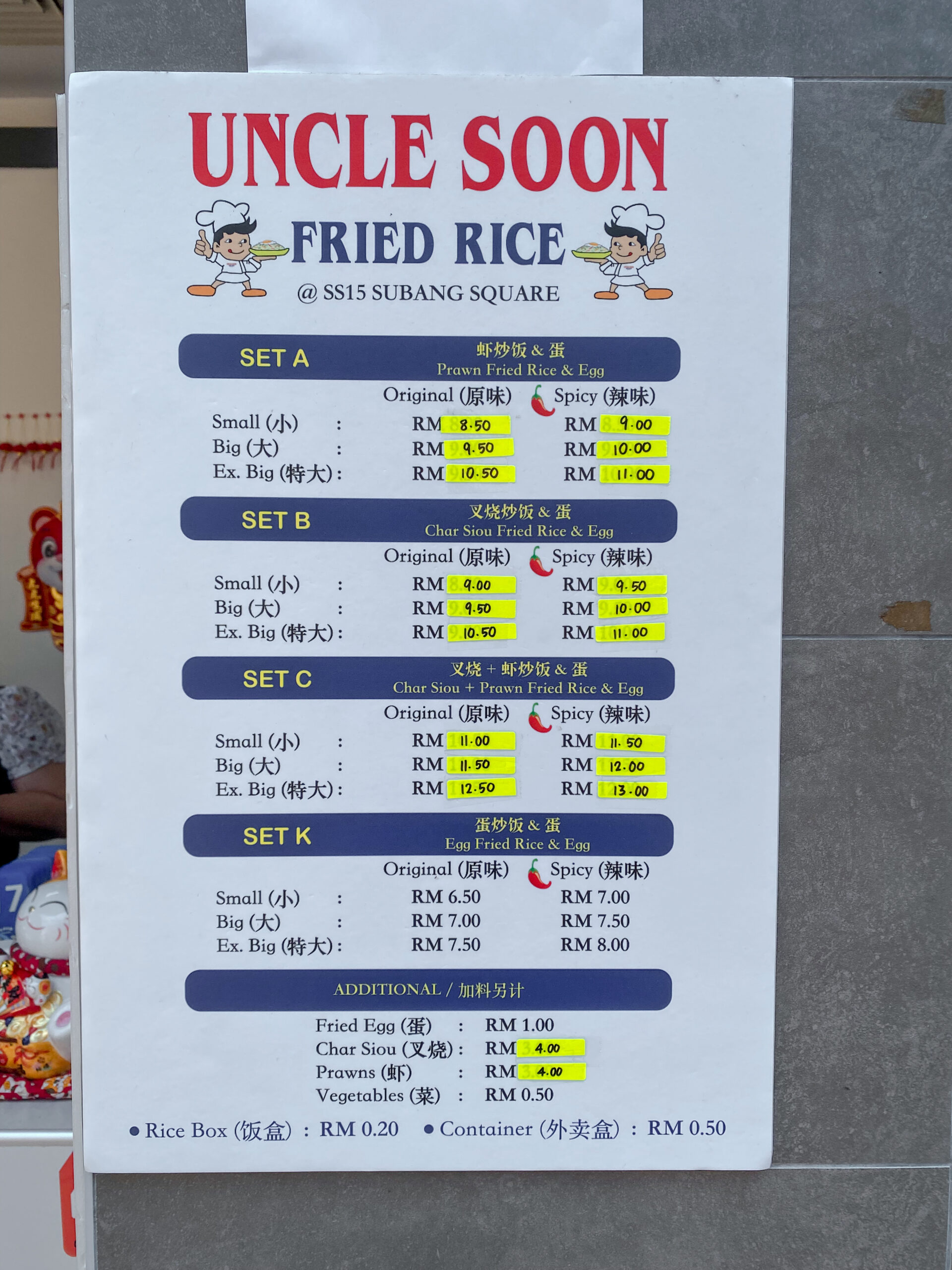 This place was air-conditioned but you could barely feel it.
There was ample seating and also an outdoor area for smokers.
We reached Uncle Soon around 3pm and there was little to no people there which made it very comfortable to dine at but I can't say the same for peak hours.
But it was quite dim at some spots since the blue-tinted rooftop blocked out most of the sunlight.
This place was actually quite clean. Floors were not sticky and free of rubbish.
It is definitely more clean than to dine at a hawker store.
We could also see through the kitchen which seemed clean.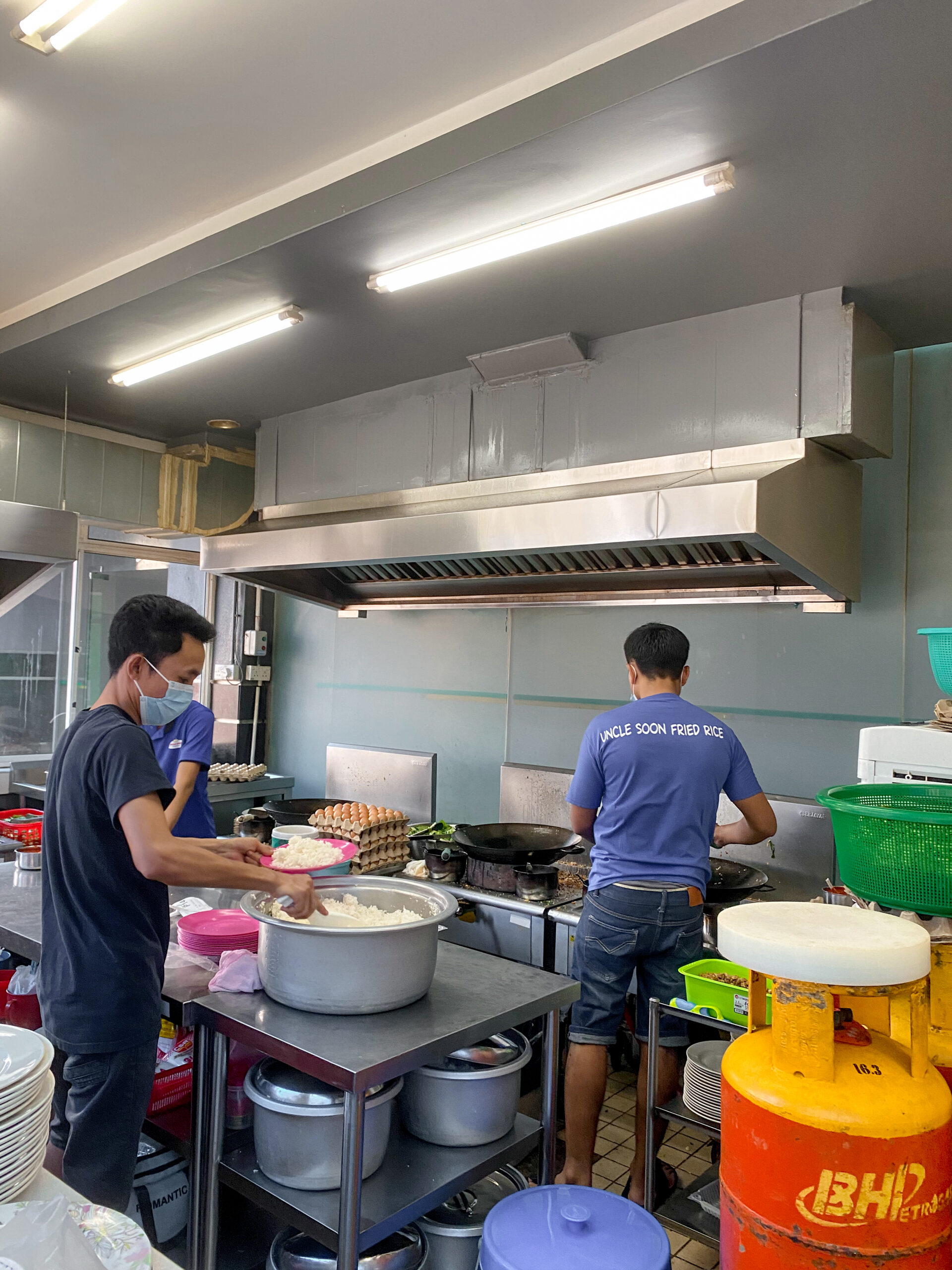 I don't think the servers cleaned the tables very well because rice grains from the previous patron were left on out table.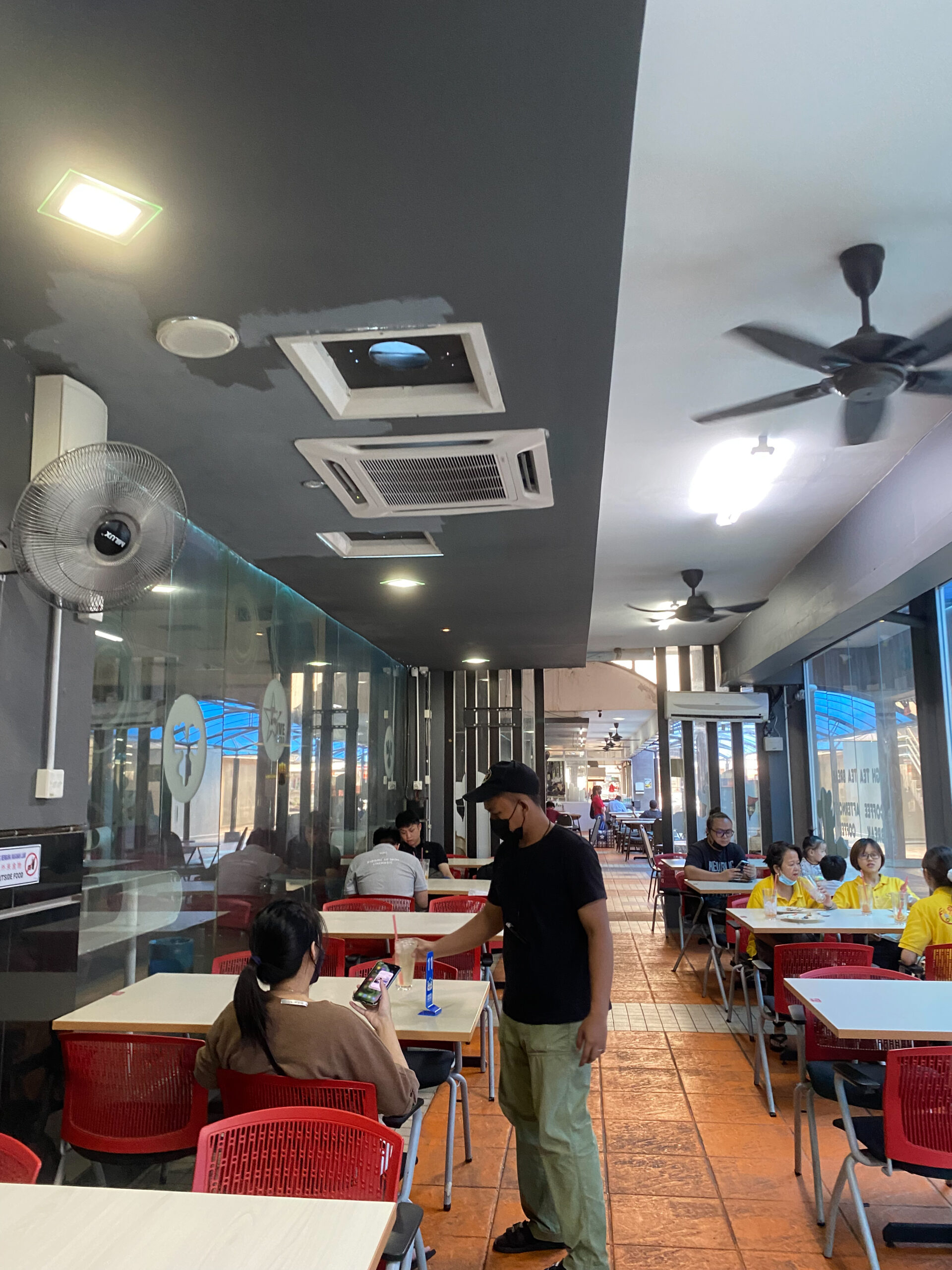 To order, you had to go to the counter and make your payment right away as well.
If you wanted to get drinks, you would have to wait for the opposite drinks stall waiter to come over to take your order.
Or you could also walk over to order it yourself.
---
---
SS15 is accessible by the LRT. After getting off the stop, you would have to walk around 800m (10 mins) to reach this place.
As for cars, it is a common agreement that SS15 is impossible to find parking at. There is just too many cars but not enough parking space.
Roads are also narrow, and yet some people still find a way to double park.
Just be prepared to get stuck in a queue and make a few rounds before finding a spot.
Yes, yes and yes for 100 times. This place is DA BOMB!
Food is good, price is good and that's all that matters.
I can see how this place is a must-go when bringing someone to SS15.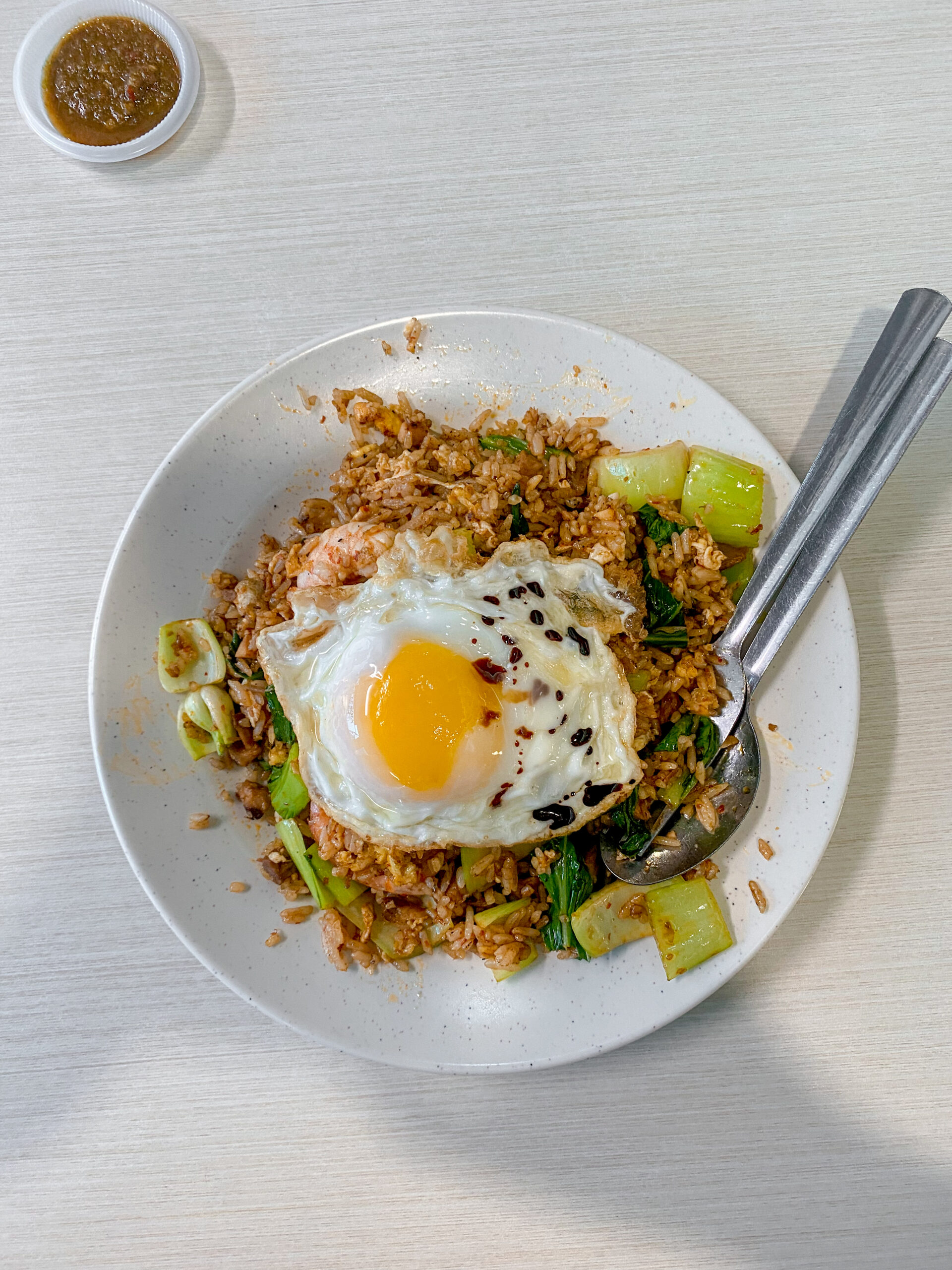 They aced the OnlyFood KL review with flying colors and get a "Recommended Sticker" by the team!
Facebook: Uncle Soon Fried Rice
Opening Hours: Thursdays to Sundays from 10:30am-8:30pm. Closed on Mondays to Wednesdays
Address: Subang Square Shopping Mall, Ss 15, 47500 Subang Jaya, Selangor
For more food, click here: