Many come here to hangout, especially amongst the students from the high schools nearby.
And during FIFA season, this place gets decorated with flags and the big screen is put up for public viewing.
Also known as Uncle Raju's Corner, Sky Villa is home to the allegedly best keropok lekor, fried chicken and most innovative apam in town!
So, let's dive into it and check out the food shall we?
The apam store sells all kinds of innovative apam renditions, with the banana brown sugar as one of the fan faves.
We decided to order the OG, banana brown sugar and egg apam just for some variety.
The original apam is super fluffy in the center and crisp at the edges. What I loved about it was the coconut-y flavor which brought aroma to the dessert.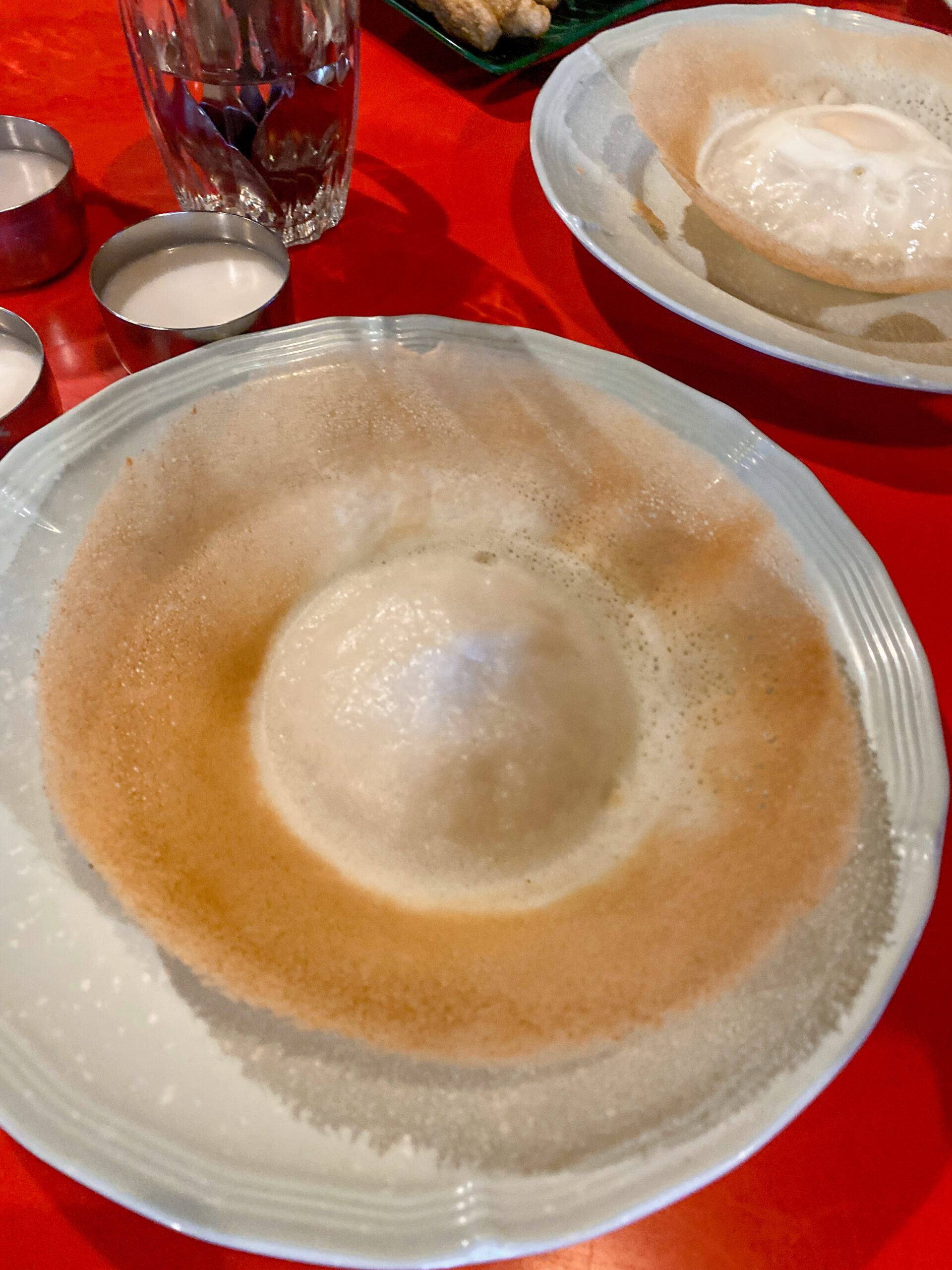 Each apam came with its own milk that you 100% should dip into for some extra sweetness and flavor.
Unlike one of the other apams we've tried before at Petaling Street, this one doesnt turn soggy after awhile and remains its fluffy center.
The banana brown sugar one was our fave. Why?
It was sweet with the brown sugar and banana touch.
The edges were a little ooey gooey, not as crunchy as the OG but it was still very delicious.
This flavor combo is BOMB, I don't think I want the regular apam again after trying this.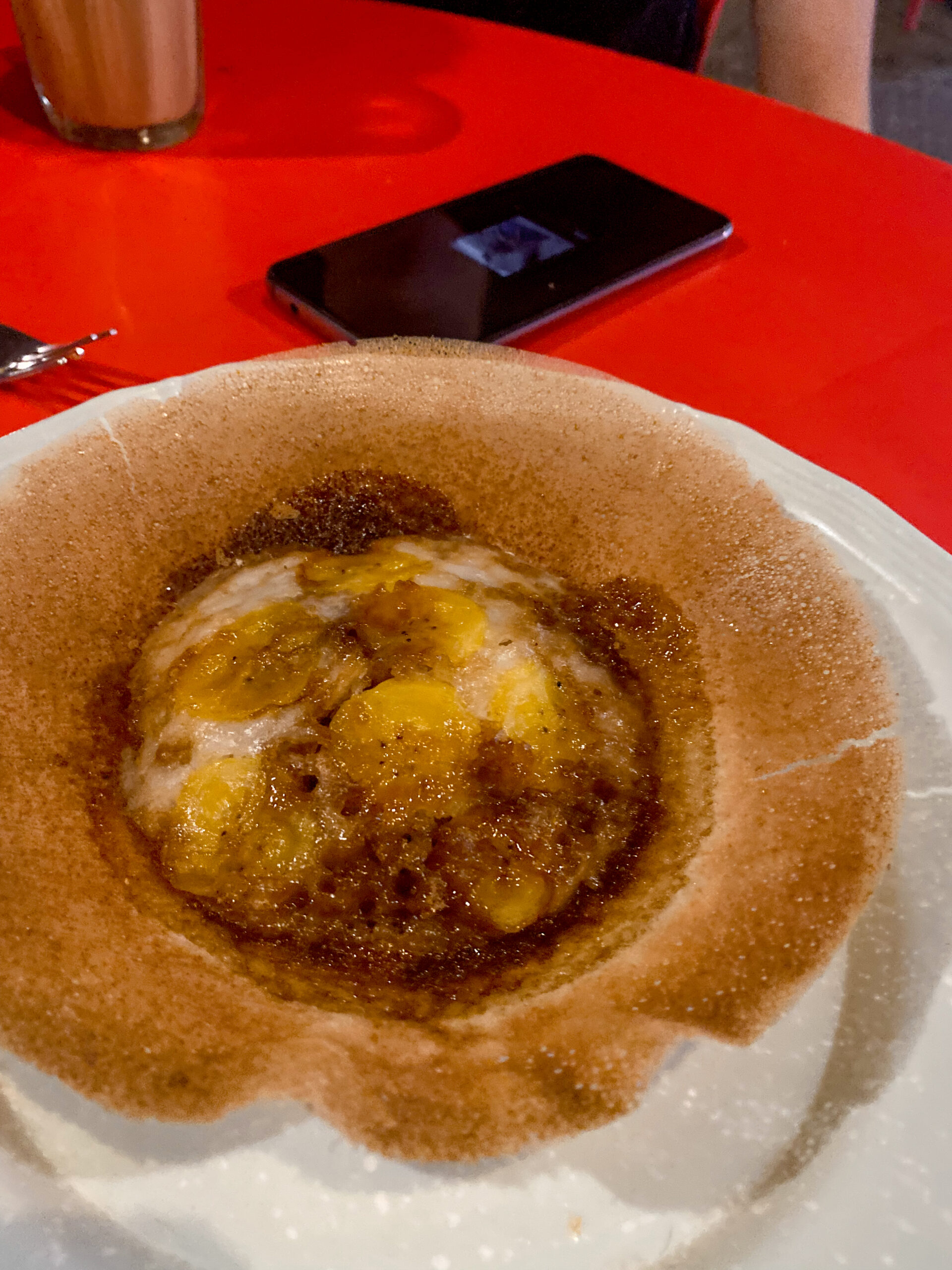 Last but not least, was the egg apam.
When it came, I was a bit shocked because the egg looked so huge on the apam.
But that was because the center part of the apam was already floofed up to begin with, giving the illusion that the egg was giantic.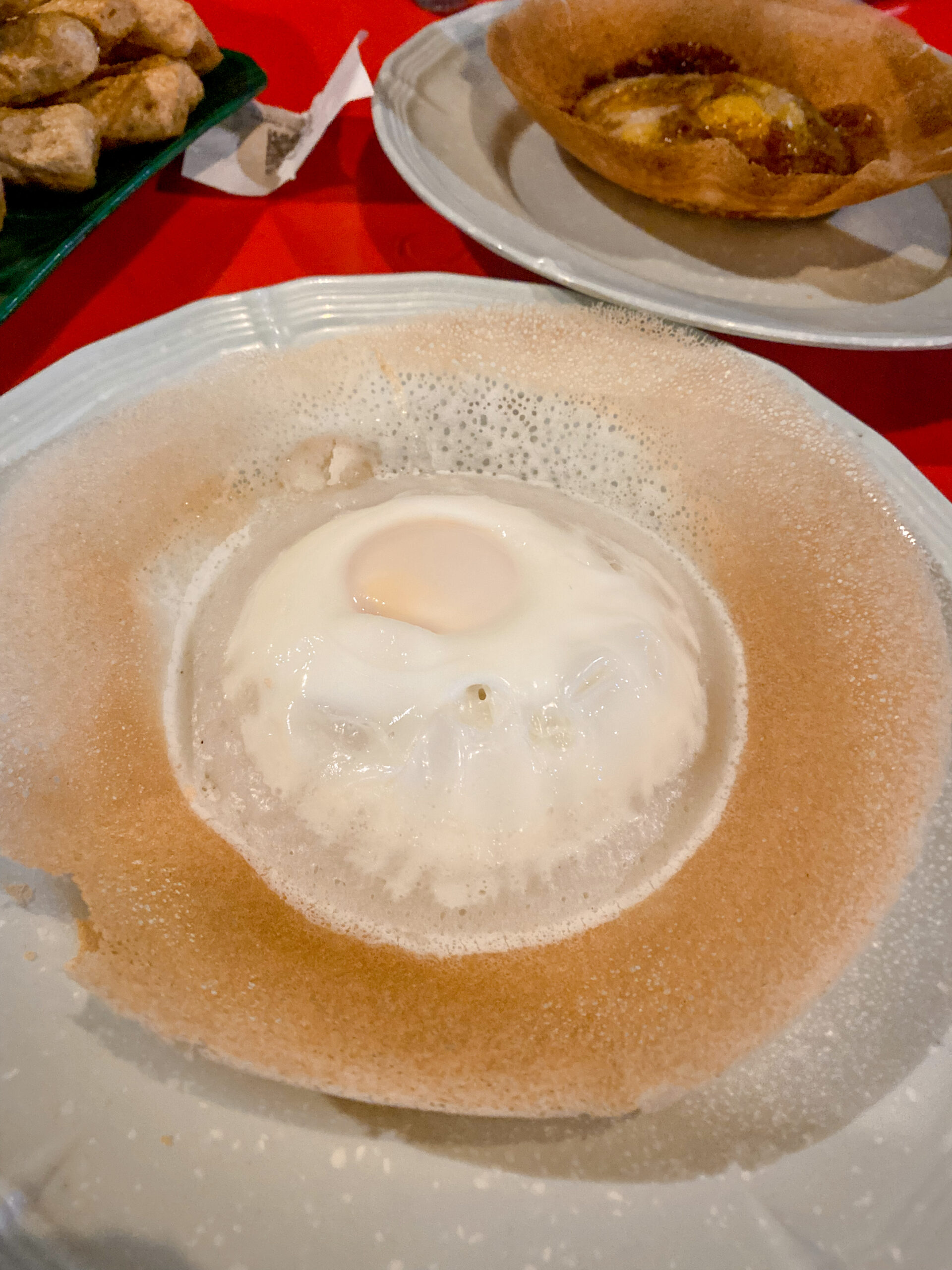 The egg on this was so smooth and not oily at all. It was probably steamed together with the apam as it was cooking, giving it a smooth glisten and texture when eating.
Also, THE YOLK!!! We love a runny yolk.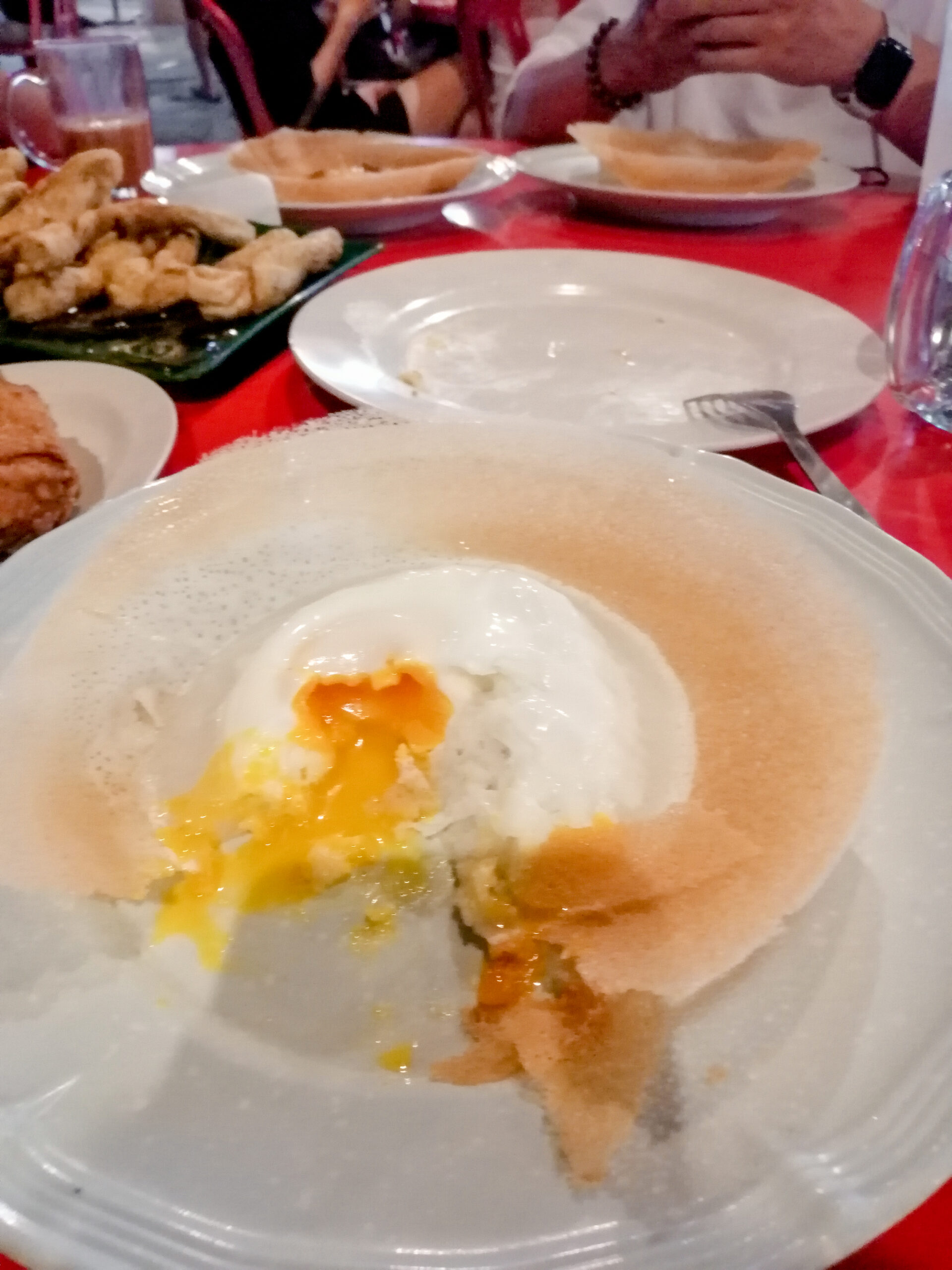 If I were to rank these three, it would be: Banana brown sugar – Egg – OG.
With that being said, all were good. This is just my personally ranking for anyone who is wondering.
I actually don't really have much to say about this fried chicken.
We ordered the thigh, so the meat was indeed very soft in comparison to the breast.
But taste-wise, it was quite basic. Not mind-blowing in any way actually. If you want good fried chicken, I suggest you take a look at our review of Sei Ngan Chai Fried Chicken at Wai Sek Gai, Pudu.
I feel bad for saying this, but the keropok lekor at Sky Villa is so-so je.
In fact, it was a bit too burnt for me because some pieces were fried till the center had no flesh. If you get what I meant.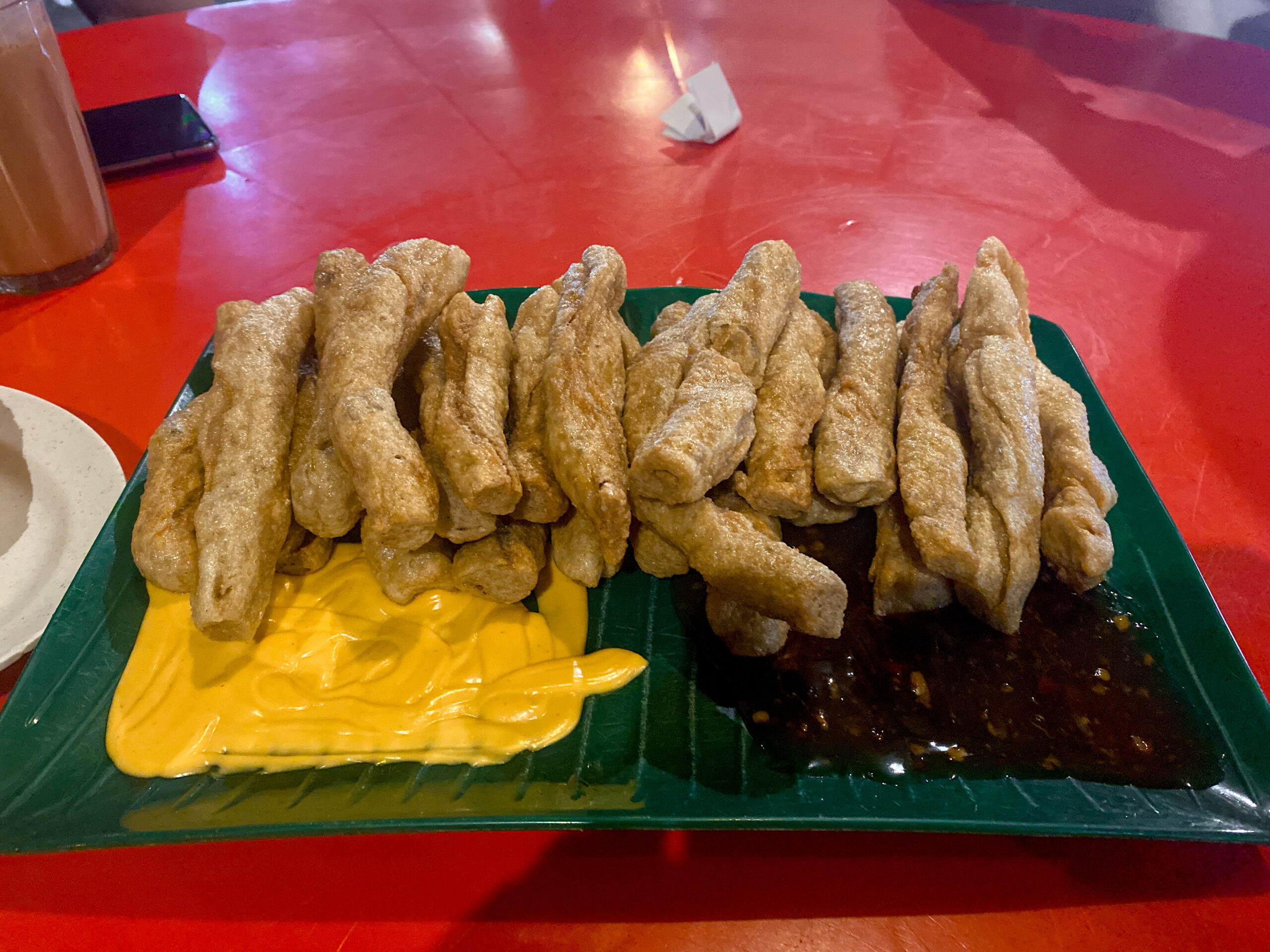 Like McD french fries sometimes when they over-fry it, it just turns into a hard fry.
That's kinda what happened with some of the pieces.
Most of it were just too over-fried on the outside.
With that being said, they do get some extra points for giving us cheese sauce. A condiment I've never seen before matched together with keropok lekor.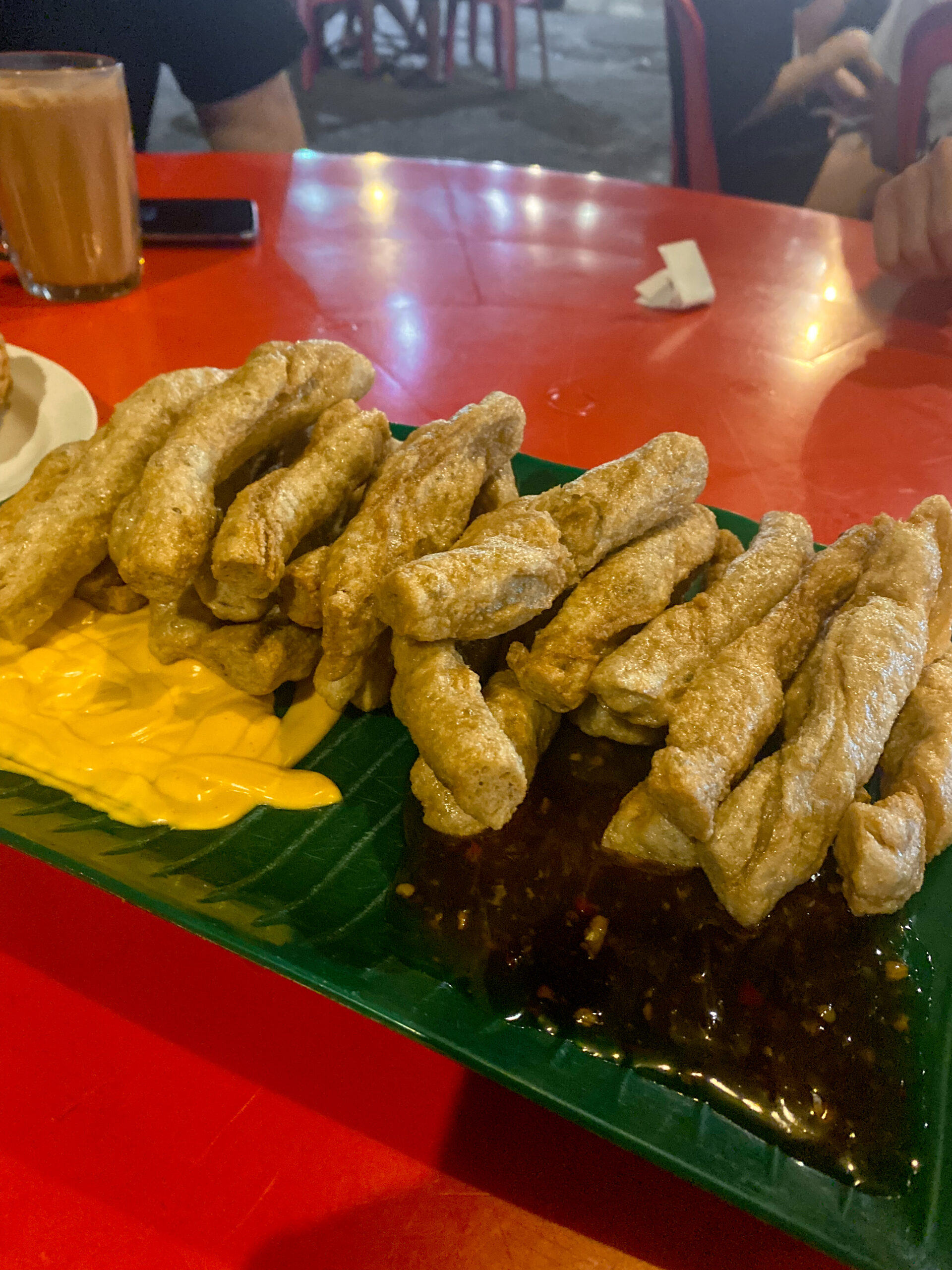 Including drinks, fried chicken and the roti tampal we ordered, our Uncle Raju bill was RM24.
Keropok lekor bill was RM15 for 25 pieces, this was the large one.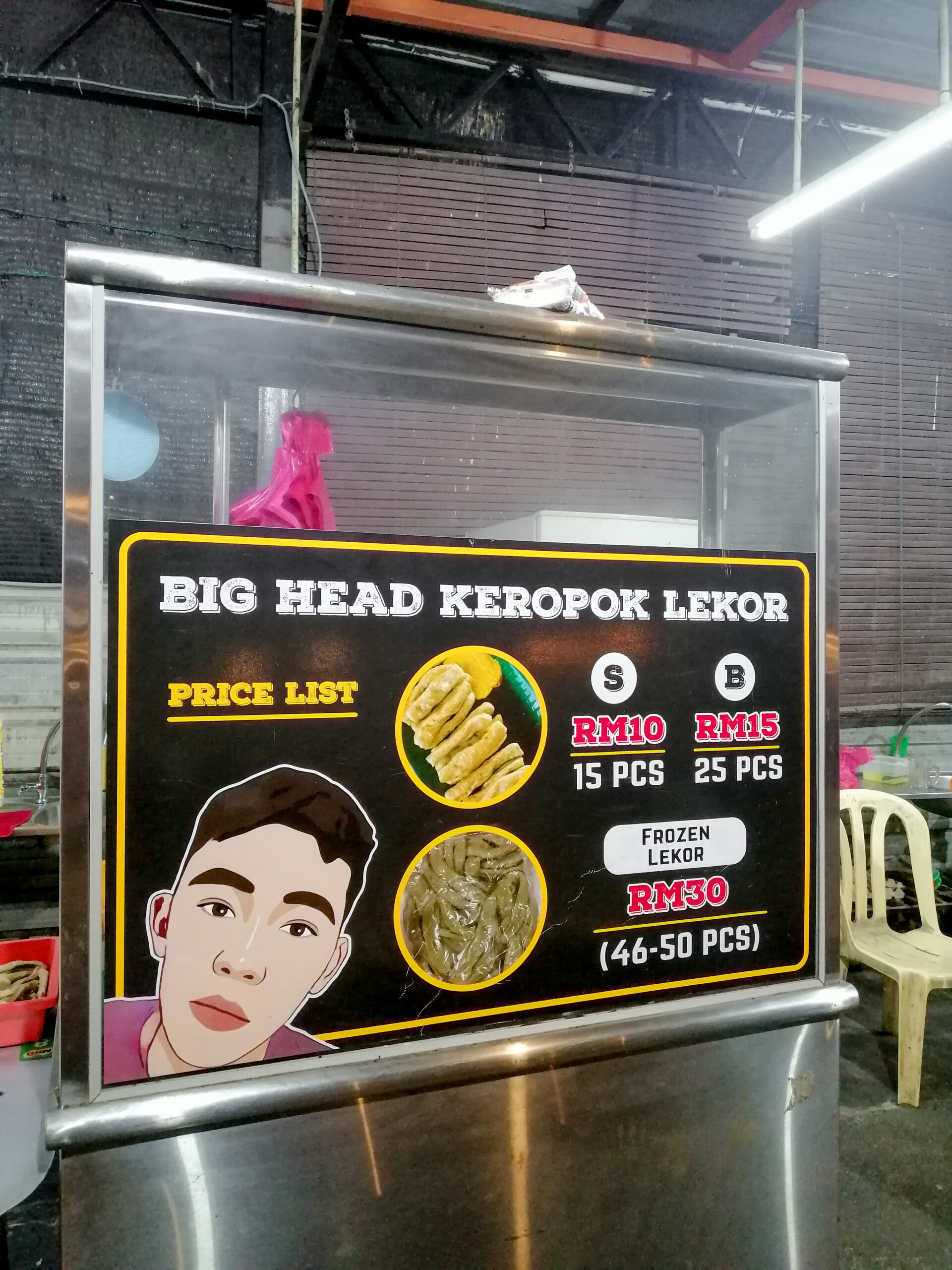 Apam was RM10.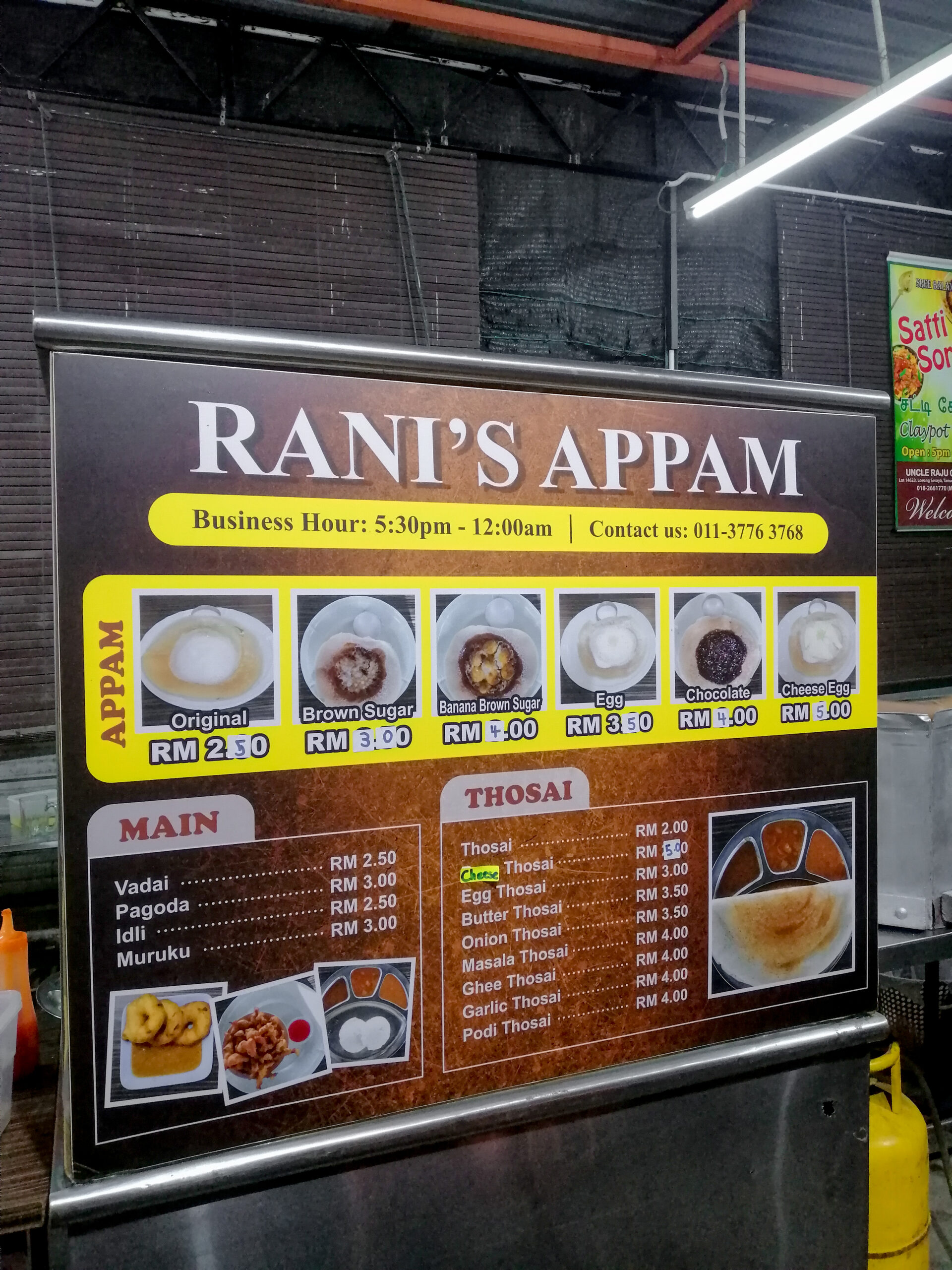 So in total, we spent RM49.
I think it was OK, with the exception of the apam being more pricey than usual apams but it was totally justified because of the innovative flavors which were all spot on.
Most IG worthy is definitely the apam, following by the keropok lekor and then the quite basic chicken.
I would definitely not waste storage space in my phone for a picture of a chicken.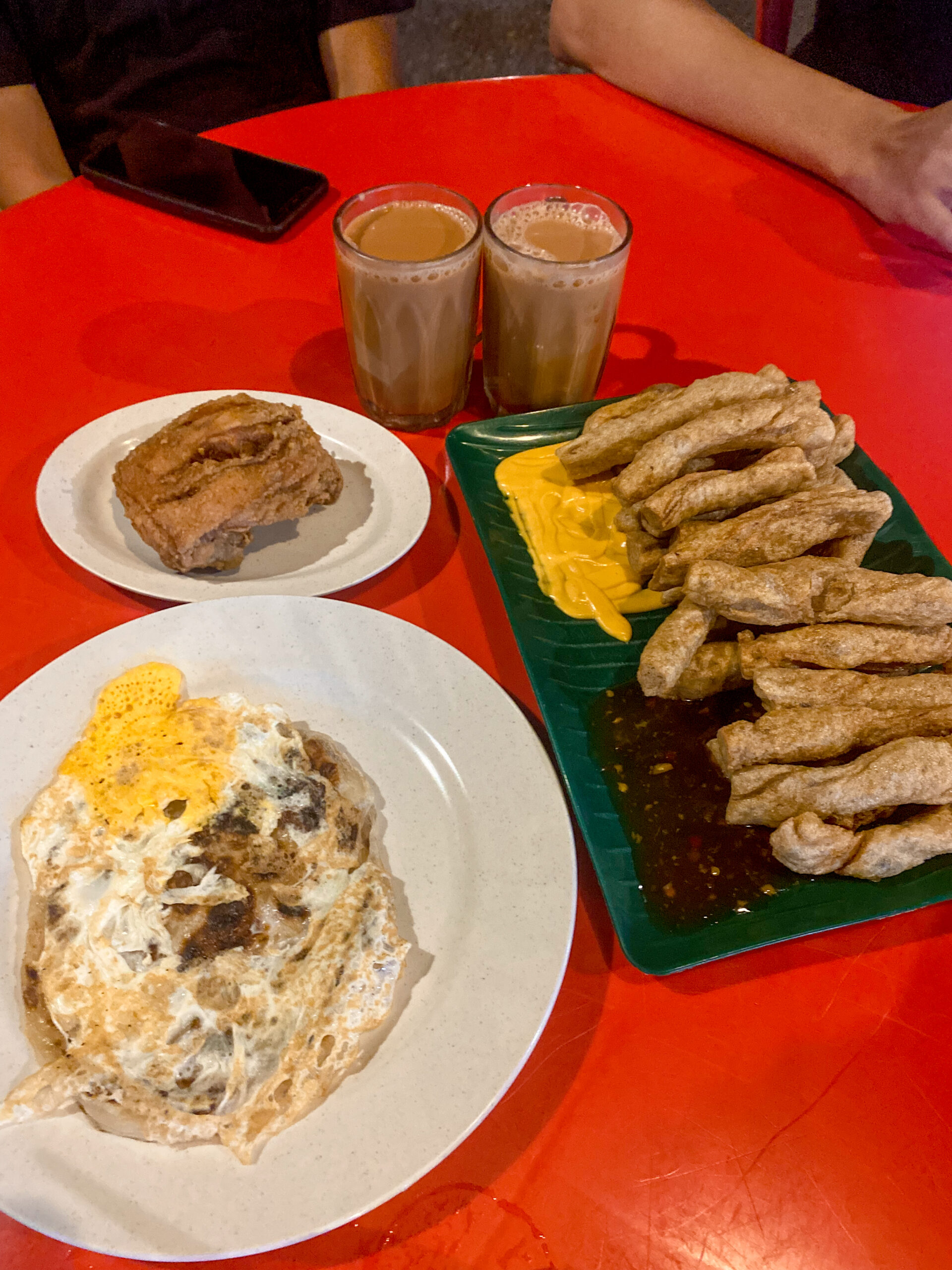 Unlike other mamaks, this place is very well ventilated and has ample outdoor seating.
If you are lucky and the weather is a little windy, the cool breeze turns into nature's AC for you.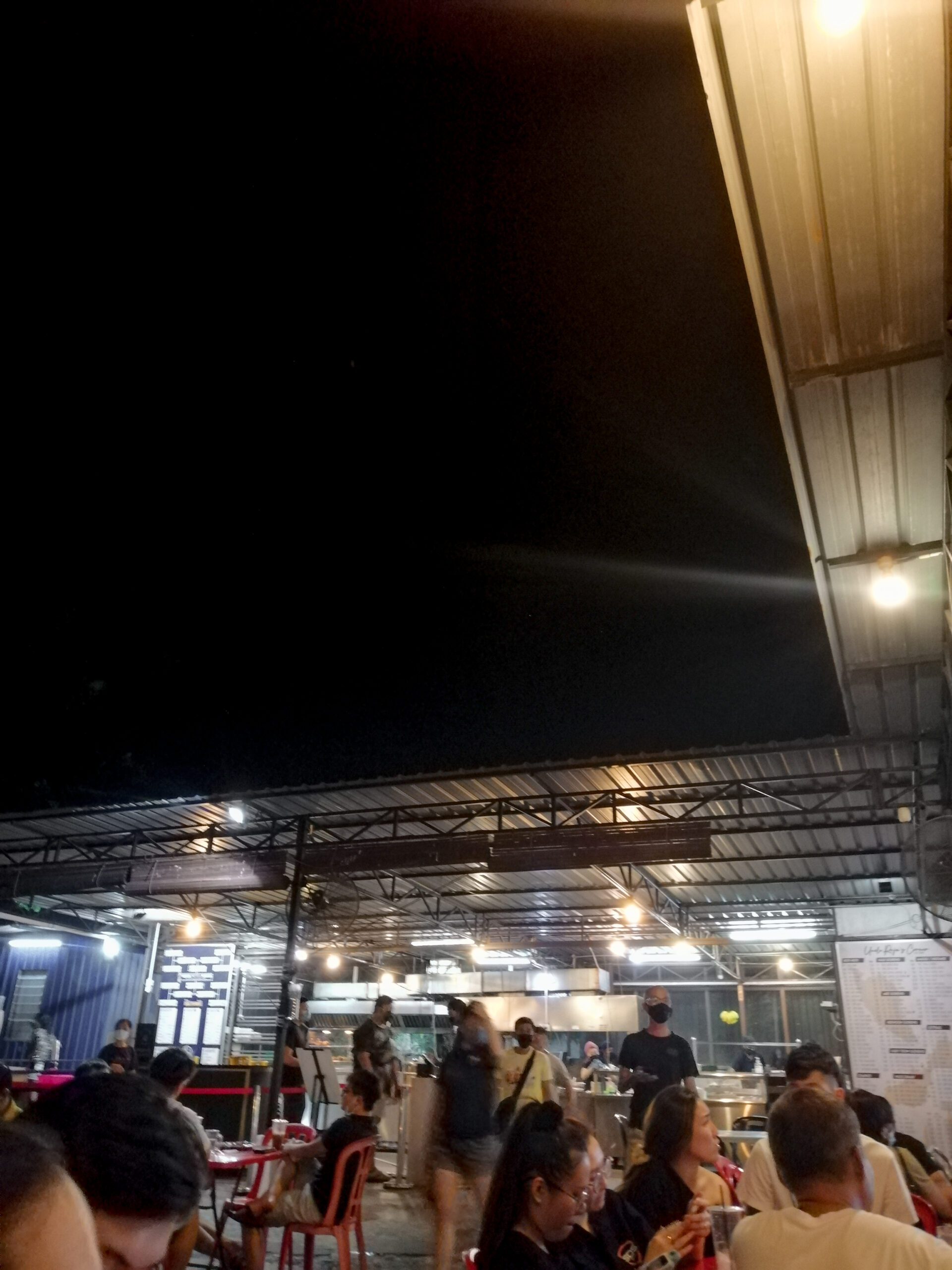 If not, you won't break a sweat either because the fans here are strong.
However, crowds are crazy at night and you WILL need to wait in line to enter.
Just get ready for a noisy environment.
One, I saw dead cockroaches by the toilet.
Two, the toilet was S-T-O-N-K-Y.
But three, on the flip side, the eating area was OK. Not too dirty.
---
---
In Klang, I don't think you get much public transport. The LRTs in this area is highly under-developed so that option is out of the way.
Also, if you are coming to Sky Villa by car, it will be hard to find parking because it is hidden in the housing area.
You will have to park in front of houses and walk a little further.
Be courteous and leave their house gates clear OK?\
We had to order via QR code and pay at the counter. So we didn't get much service from them either.
Due to the amount of people, we also didn't get to converse much with the busy workers.
But overall, service is quick and the ordering and payment system was very efficient.
---
---
I can safely say that the apam was my fave of the night out of the three types of food ordered.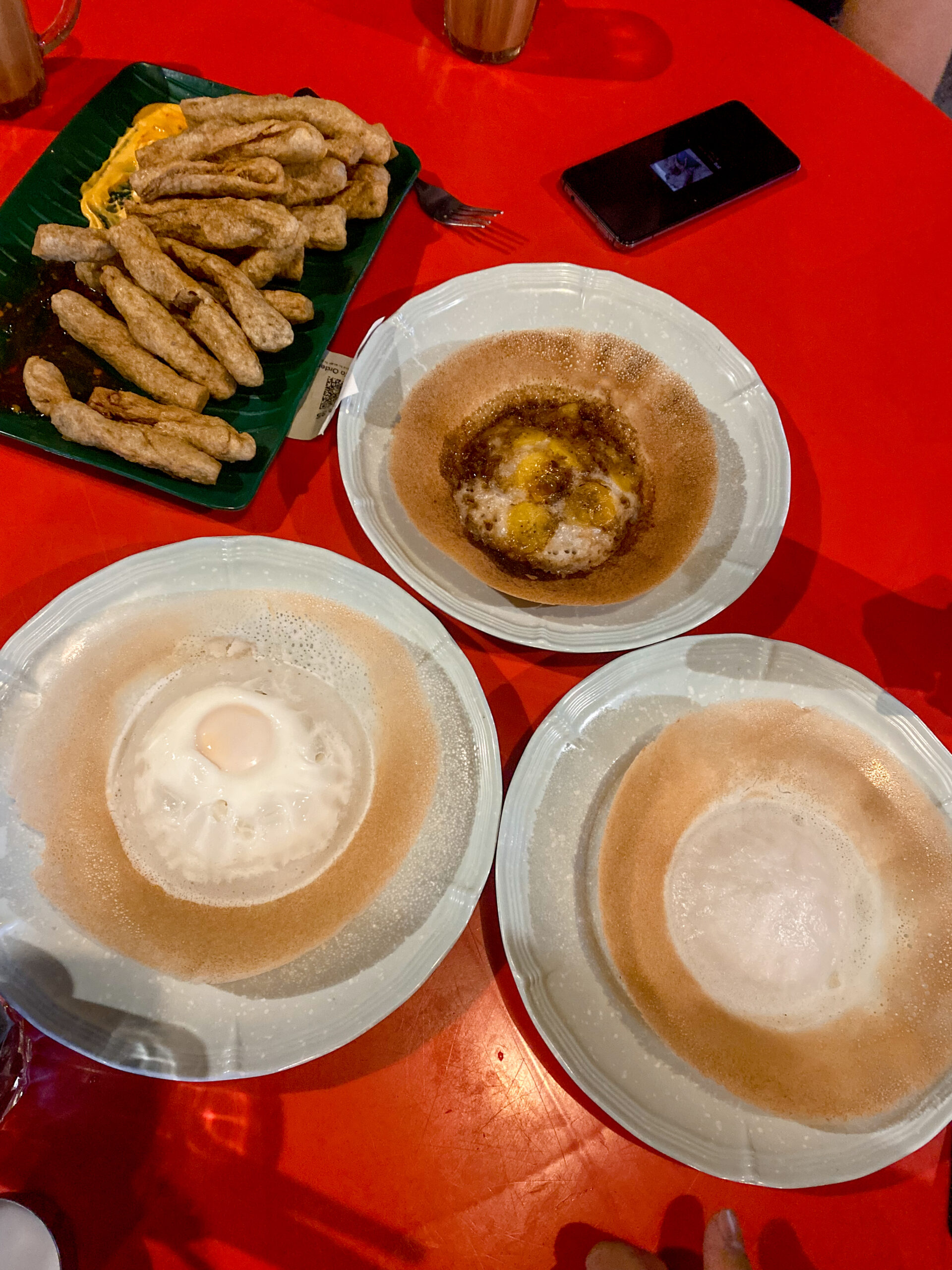 If it were just the apam, this place would get a higher rating.
But since we are giving a wholesome rating, I would say that 3.5/5 is fair. You should also try their mee goreng and nasi goreng here because we've heard later on that these are hot picks on the menu.
Facebook: Uncle Raju's Corner
Instagram: @unclerajucorner
Opening Hours: Daily from 4pm-12am
Address: Lot 14623 Lorong Seraya Taman Palm Grove Klang (Lorong Seraya), 41200 Klang, Selangor.
Want more food reviews? Click here:
---
---