Introduction
The Pandamaran part of Klang is home to the famous Yao Yao Bing and Fried Chicken that high schoolers love to visit.
Down the roads of the Pandamaran area are also streets of food stalls that locals frequent for a quick and cheap meal.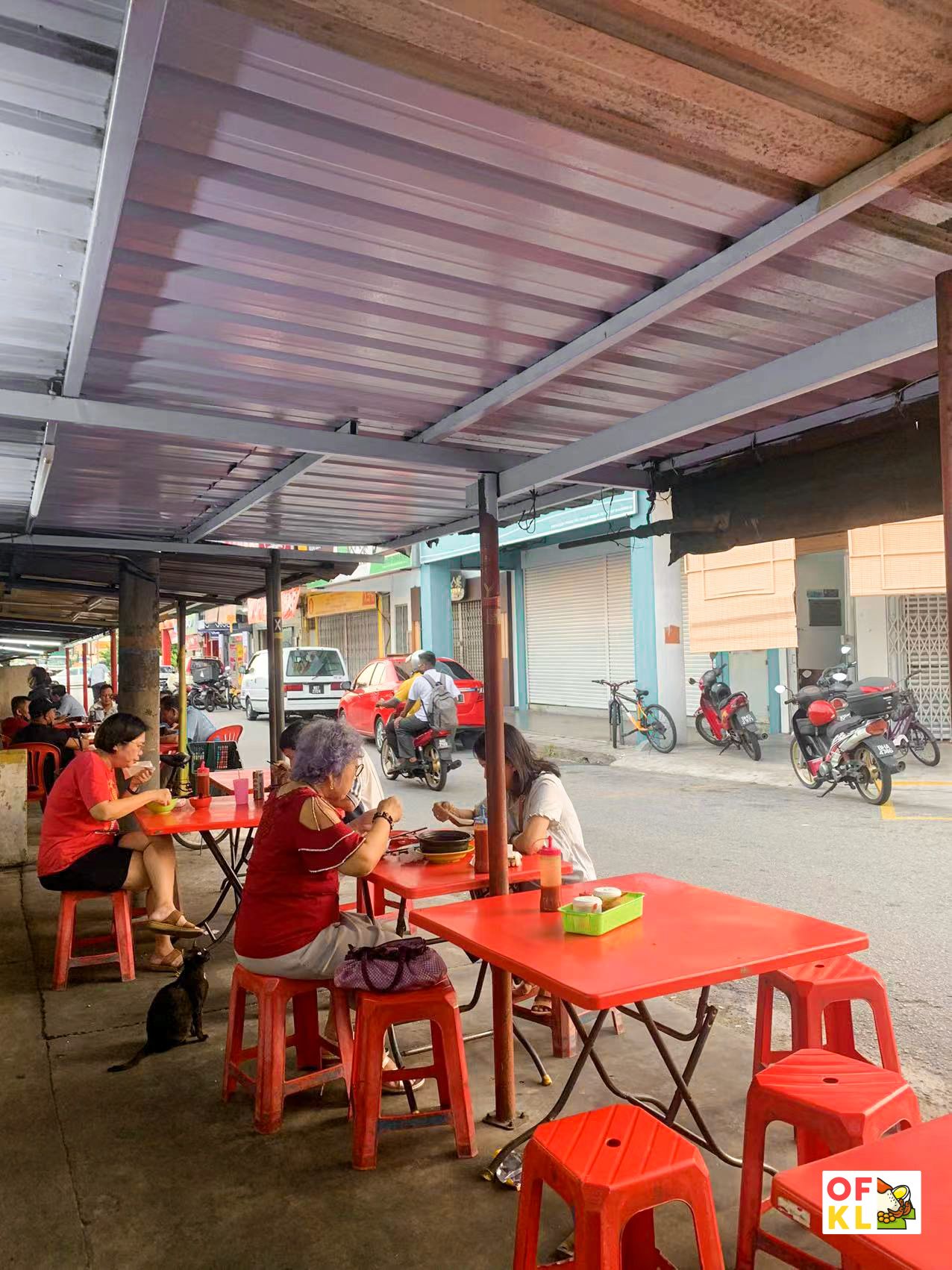 Many vendors set up their stalls selling a variety of food like noodles, rice, dessert drinks and more when evening falls.
To hunt for the best food amongst the stalls, we decided to dine at a noodle stall which had more patrons at the time we were there.
With not much expectations, we ordered some of what the Lady Boss recommended to be good and we were pleasantly delighted by the cooking.
We ordered their Kolo Lao Shu Fen which came in a medium-sized bowl although we did order for a large.
The texture of the noodles itself was bouncy and chewy. The generous amounts of minced meat, fishcake and char siew added meatiness to the noodles.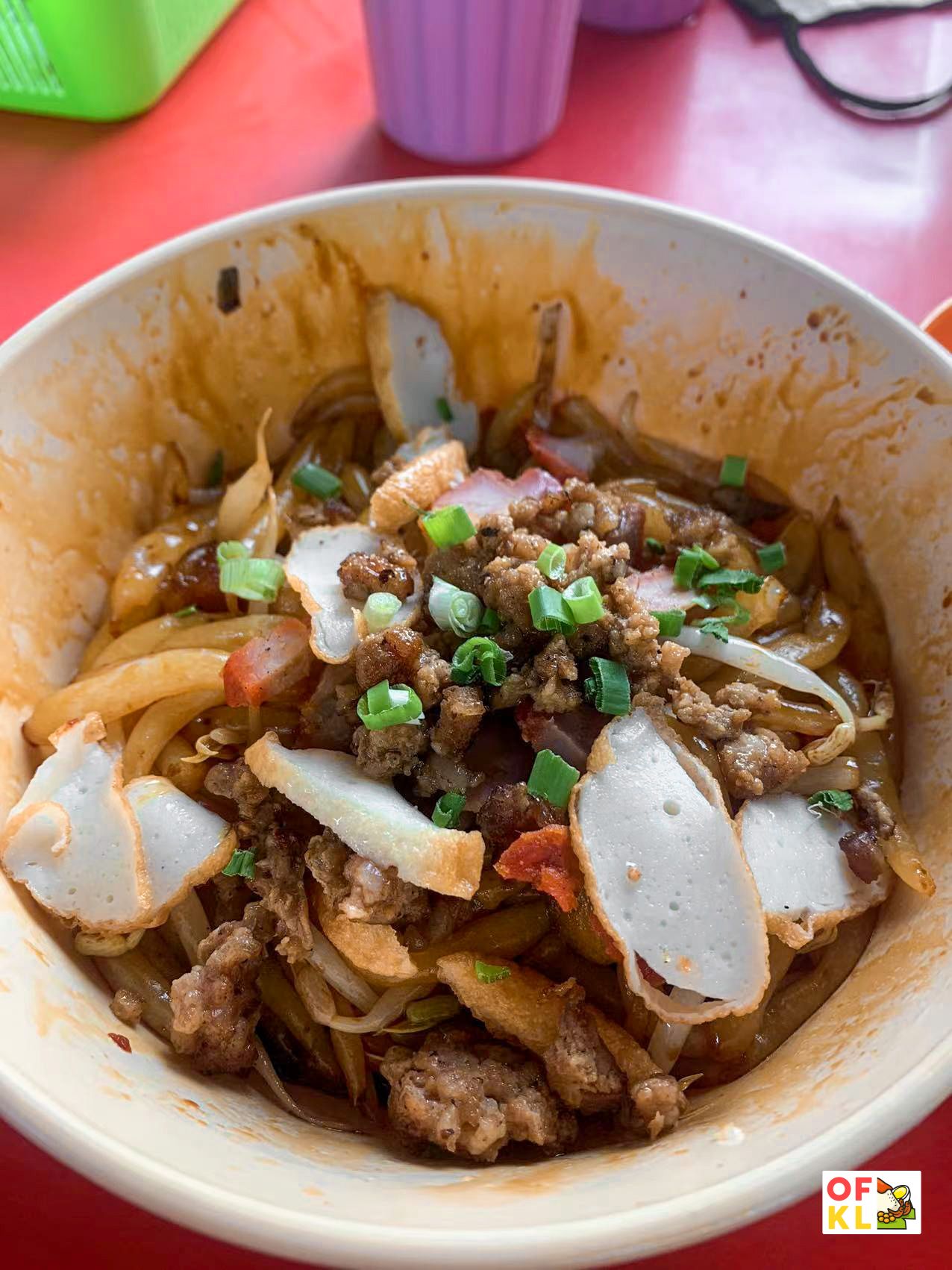 But, the brown sauce was just way too sweet for our liking. We've never tasted a kolo noodle dish that was this sweet to the point that you would feel thirsty for water at the end of the meal.
With that being said, this dish overall was still an acceptable one.
If I were you though, I wouldn't make the mistake of ordering large because you will get jelak from the noodles after you are 60% in.
Fun fact: Lao Shu Fen had its name derived from its similarities in shape to a rat's tail.
This curry mee, although smelled delicious, tasted average to me.
It brought me back to high school canteen days where curry soup was made out of powder, because that was exactly what this soup tasted like. Pandamaran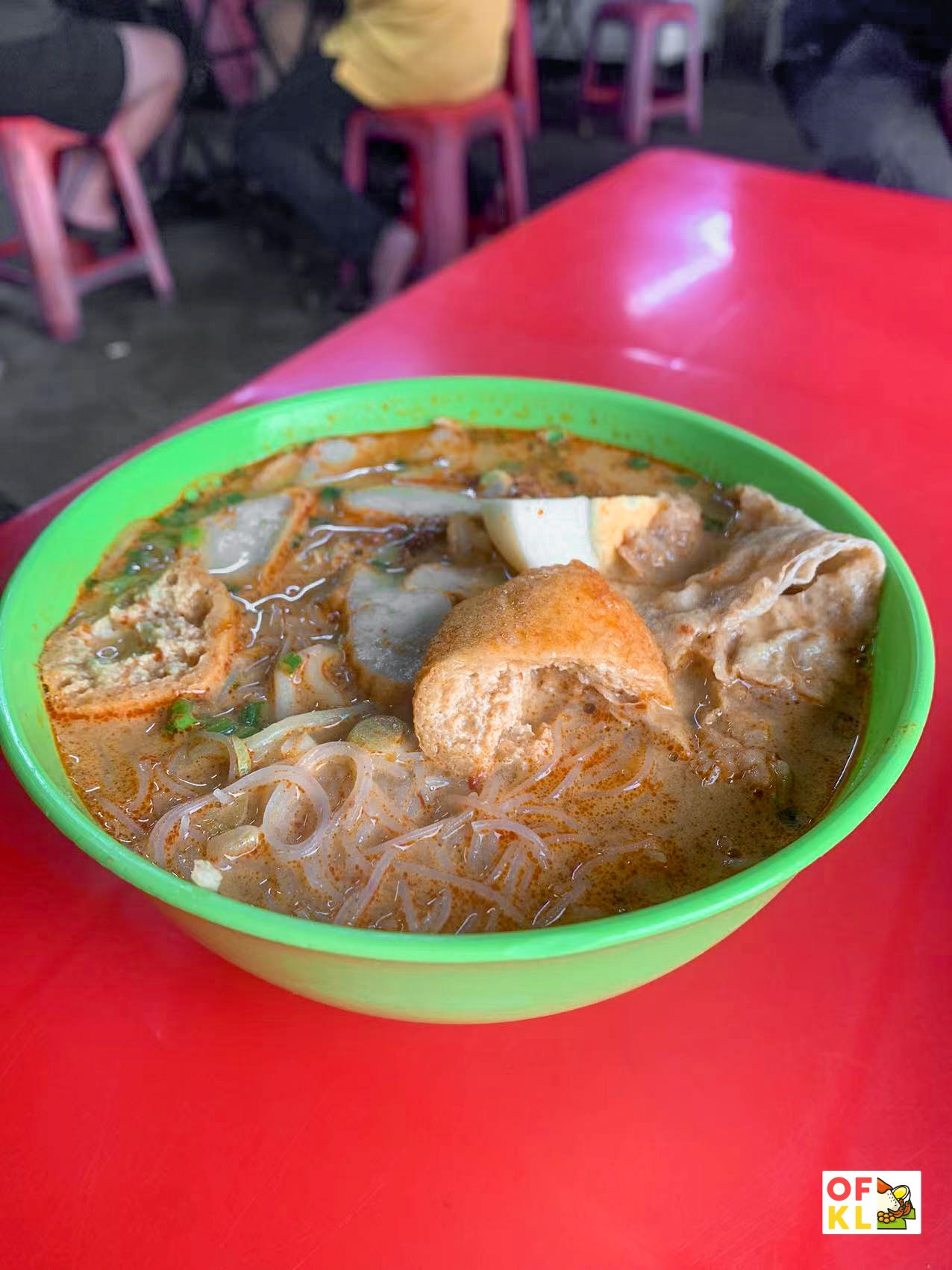 I'm not saying that it's bad. Given the fact that this is just a street stall, you can't ask too much of the chef to cook their own curry broth.
One upside of their curry soup was that it had a nice milky taste, and even a hint of prawn.
Together with the soup, you are also served up with a quarter of a half-boiled egg, fishcake, beancurd and taofupok.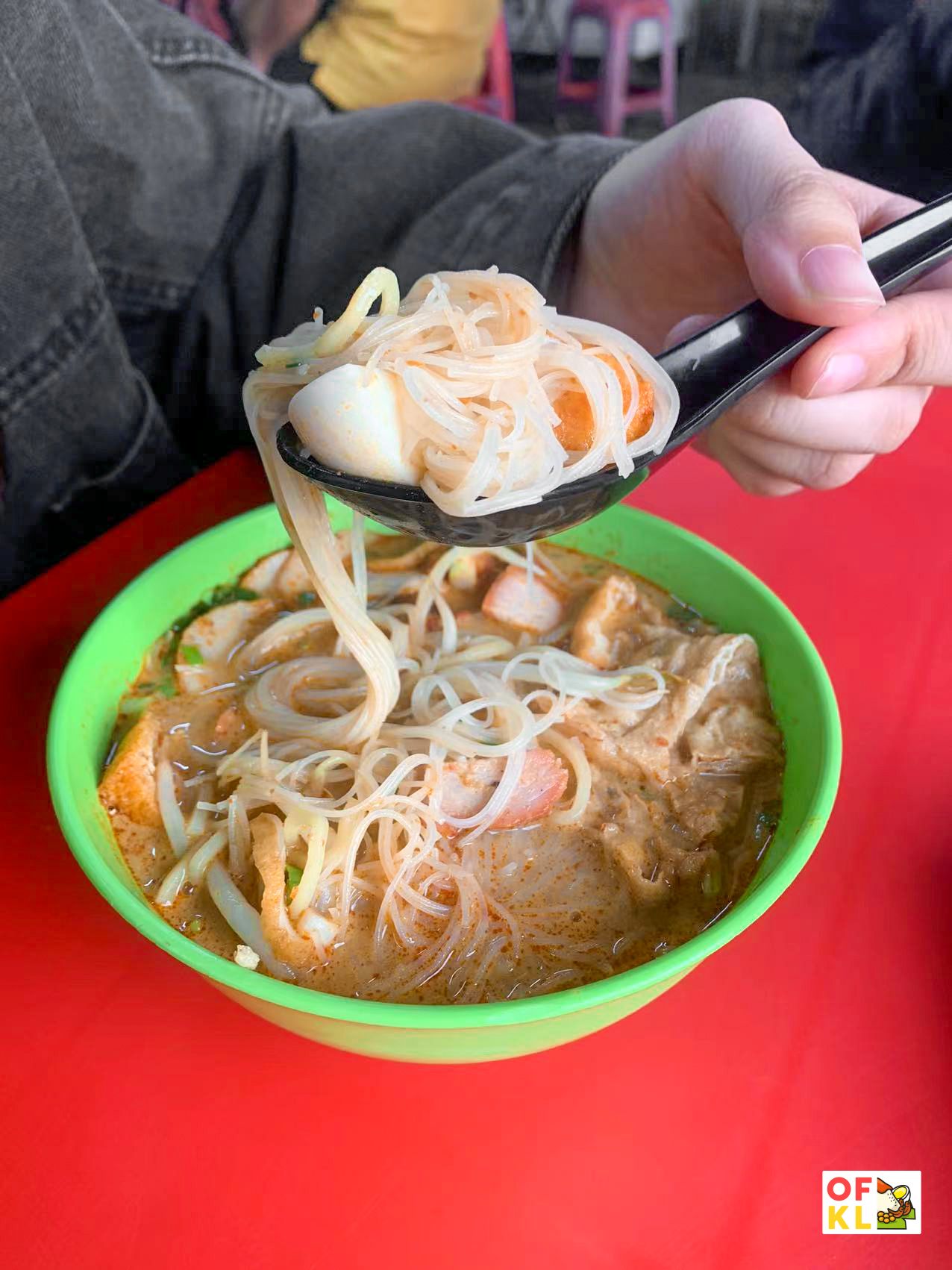 Out of all the savory food, the lalajian was my favorite.
What I liked about their lalajian is that they didn't go too heavy on the starch.
This made for a very nice consistency between the egg and lala.
The egg was crisp on its edges and had a very delicious smell of wokhey.
The lala they used were super tiny, you could barely even see it but the subtle taste of it was still recognizable in each bite.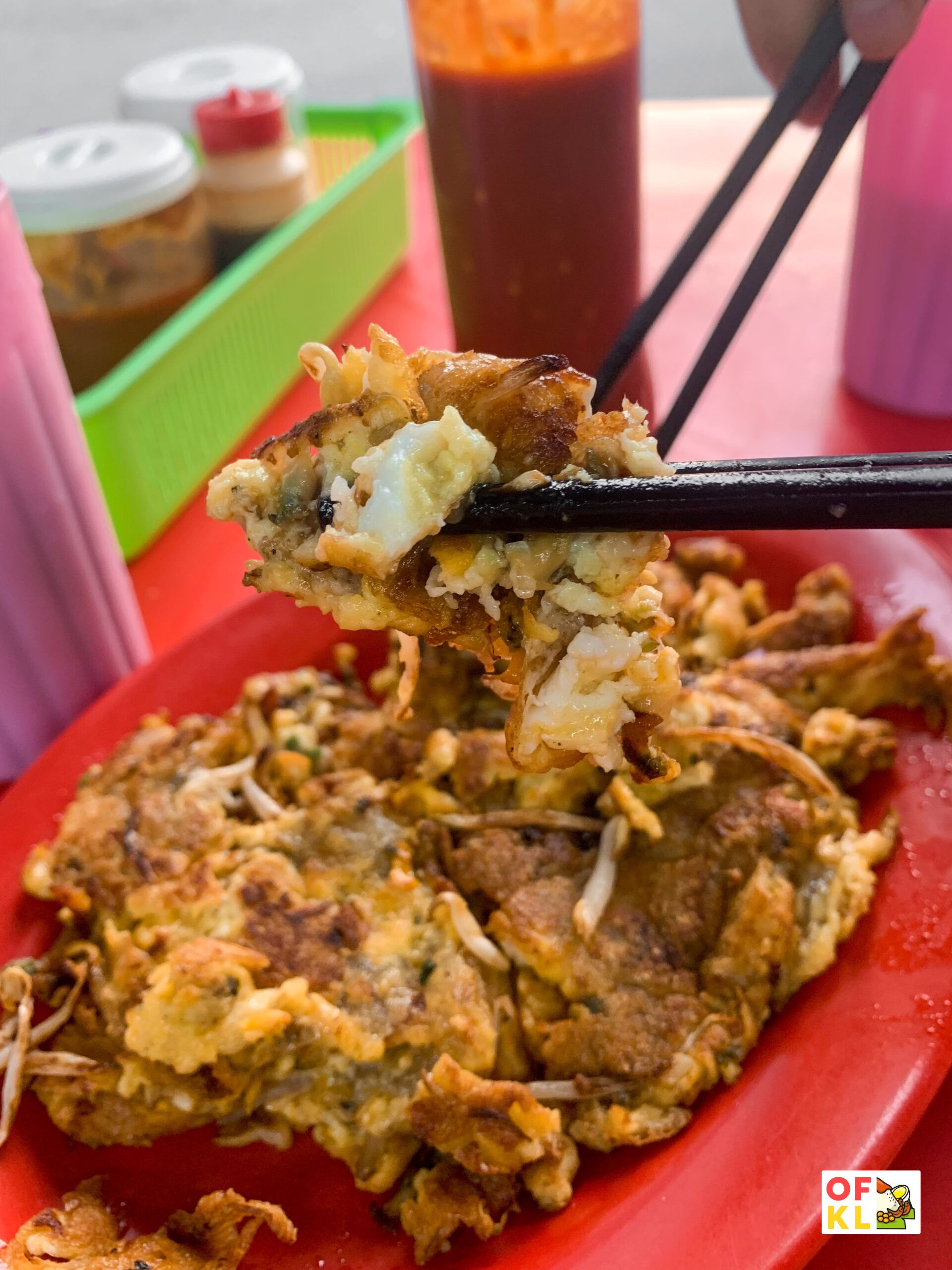 Also, this was my first time seeing beansprout in lalajian! The beansprout was a nice addition to the dish. The slight crunch in each bite added to the whole experience of it.
Again, I have to emphasize on the great balance of the starch to egg. Some lalajian or o-jian have way too much starch, causing the egg to just feel soggy and sticky.
But it wasn't like that for this lalajian so 100 thumbs up to the chef!
---
---
We ordered this dessert from the stall beside specializing in dessert and drinks.
The six components of this dessert, which gave its name "Liu Wei", that we found were barley, snow fungus, pearl jellies, sliced jellies, longan and a quail's egg.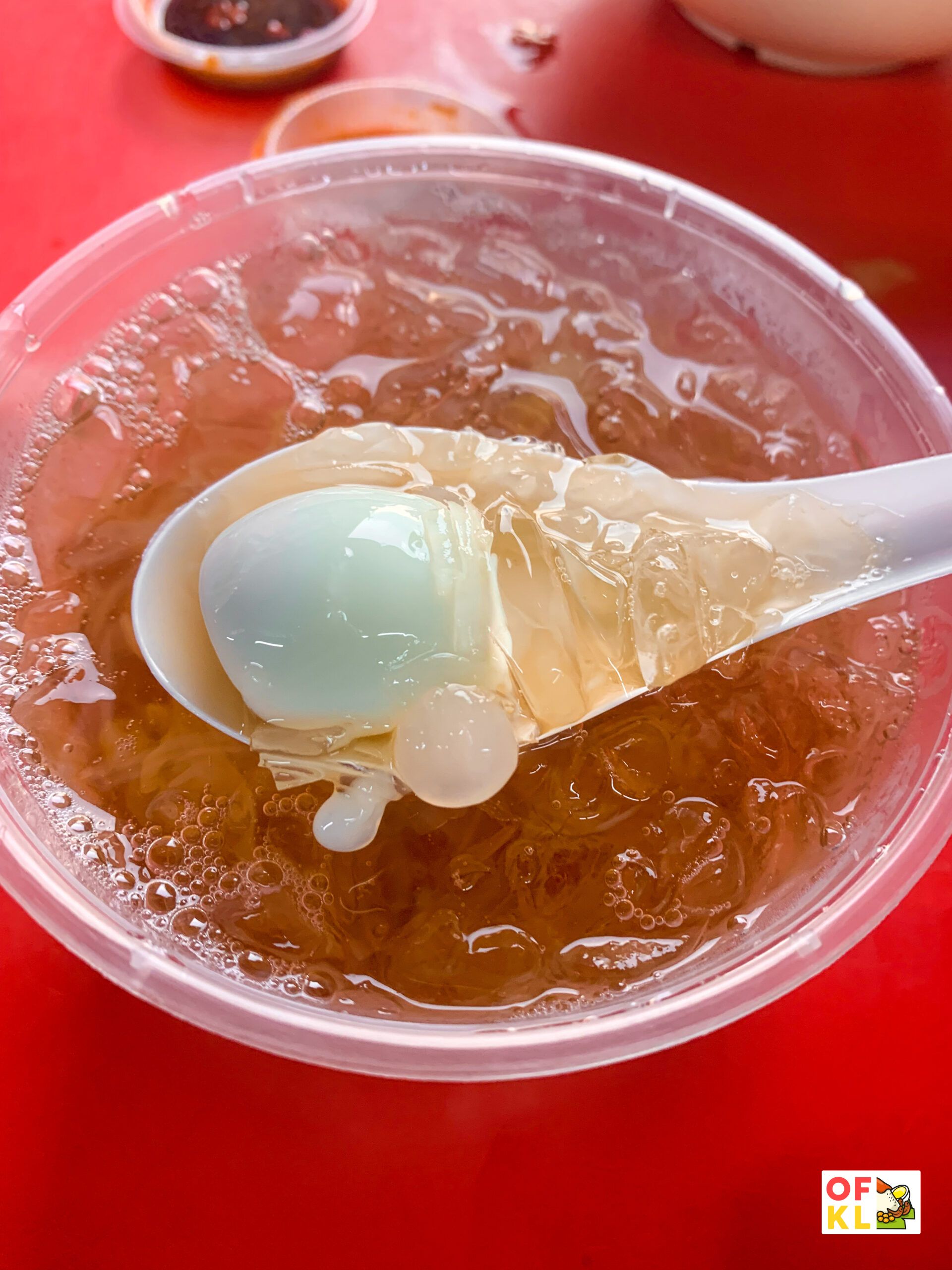 But really, it's sweetness came from the candied wintermelon cubes.
It is a great dessert to have together with the hot soup you've ordered because of the overloaded ice inside.
Truly, it is a refreshing and sweet end to your meal.
Our total bill came at RM32.50. Here's the breakdown of everything we ate and drank:
Lao Shu Fen (L): RM8
Curry Mee (M): RM7
Lalajian (M): RM11
Liu Wei Dessert: RM3.50
Herbal Drinks: RM3 for 2 cups
For everything we ordered, RM32.50 is not expensive at all. We ended up stuffed to the brinks of our tummy because we actually over-ordered.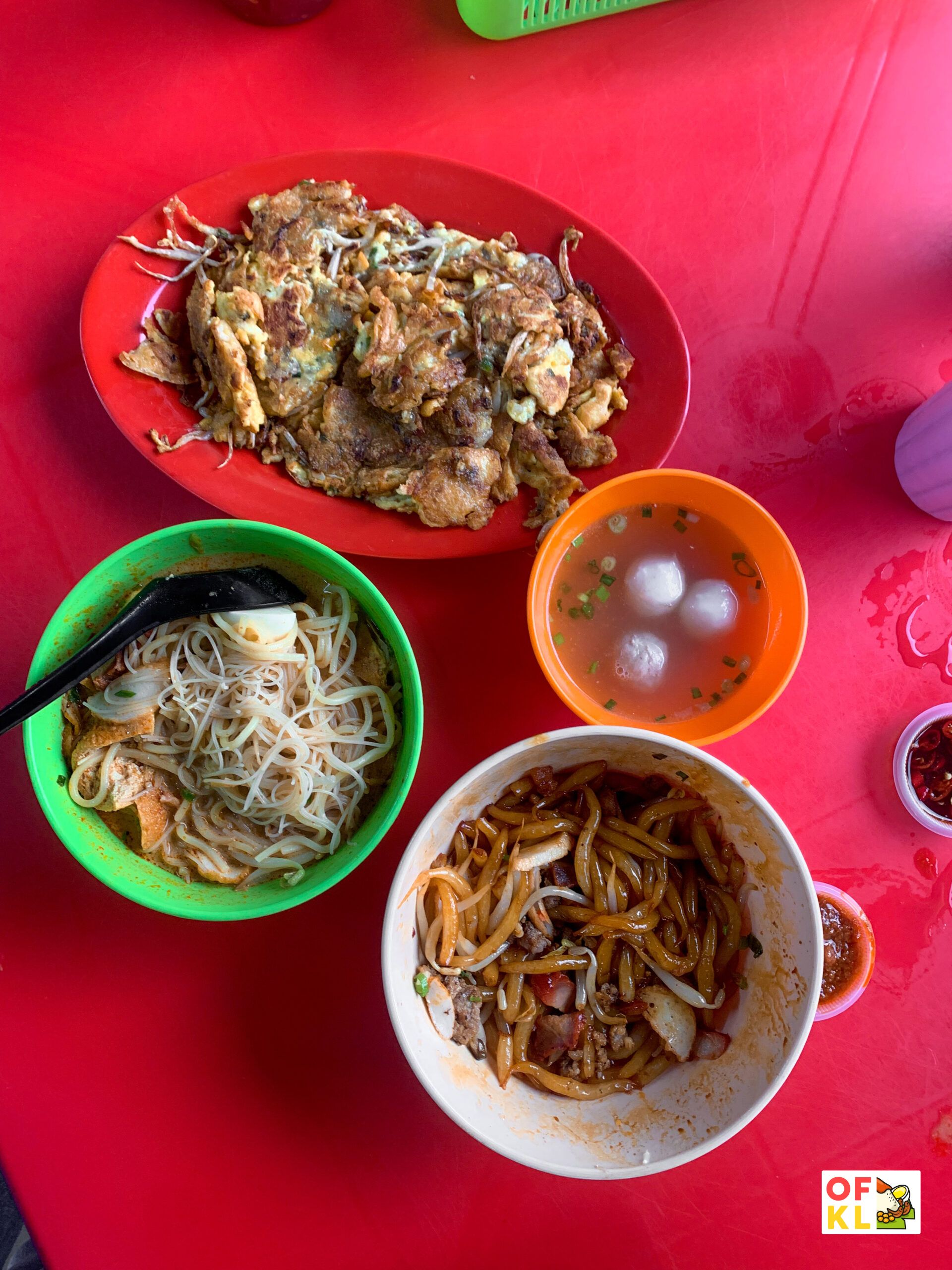 So, if you were to order just the right portions, the bill for one person will not exceed RM9 included drinks.
You get a hearty meal without blowing too much out of your pocket.
Presentation on the Lao Shu Fen was nice. You could see the minced meat, fish cake and char siew dispersed all over the top of the Lao Shu Fen which had already been thoroughly mixed through the brown sauce.
It is also garnished with scallions, adding another touch of color to the meal.
---
---
Curry Mee had an appetizing look, and smell, as well. You are getting a lot of action with the eggs, beancurd, taufopok and fishcake at the top of your soup, making for a nice picture.
The lalajian looked the most delicious, with green peaking through the yellow-brownish egg while the Liu Wei dessert was gold-brownish and loaded with all its 6 components.
You are dining in an open air location so you are subject to whatever the weather feels like doing that day.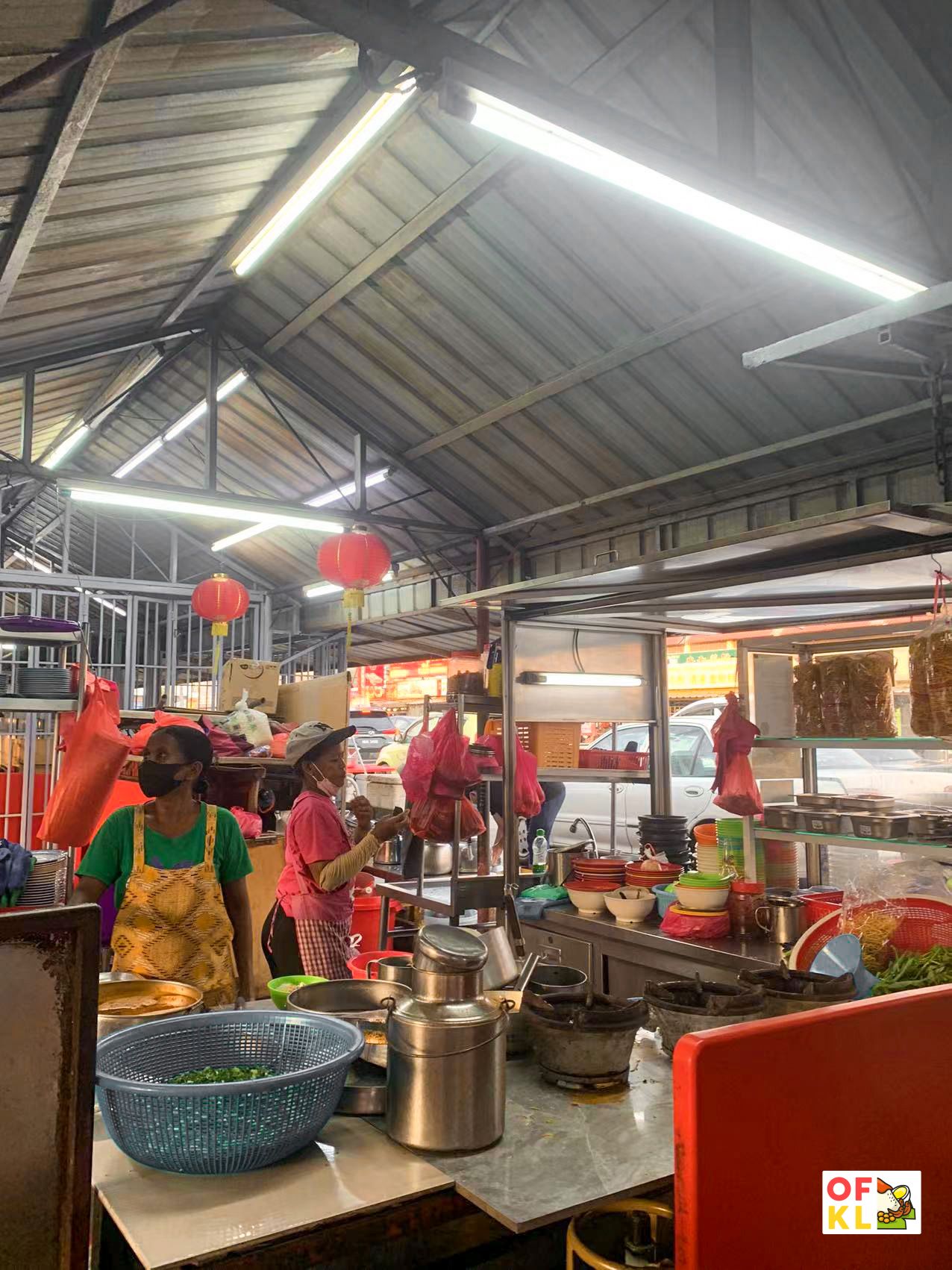 It will also get crowded and stuffy when meal time hits so people don't usually hang around for too long.
You are also sitting next to the cooking area so noises of pots clanging is unavoidable.
Generally, Pandamaran is an old town so you will feel the age as you drive into the area.
However, cleanliness here is good. We didn't see any rats at the time we were there and the floors were maintained clean.
Dining areas were relatively clean for a roadside food stall area.
We had a very helpful lady recommend us the food we should try.
When we asked where we could get desserts, she cheerfully directed us to the stall beside as well.
It's great that despite the hot cooking conditions they were put under, she still maintained a patient composure when dealing with customers.
This place has bad accessibility in a sense that public commute is no where in sight. No bus stops, no LRT or MRT stations.
The only was you can get here is by car, and even then, the Pandamaran streets get dark at night and roads are not very well-maintained.
You do get a lot of parking by the streets though, but other than that, Pandamaran is actually not a very friendly place for vehicles to come in and out from.
Also, the security level in this place isn't great. Be watchful if you are eating here alone at night.
All in all, the taste of the food we ate here was mediocre, but still acceptable to those who aren't heavy foodies.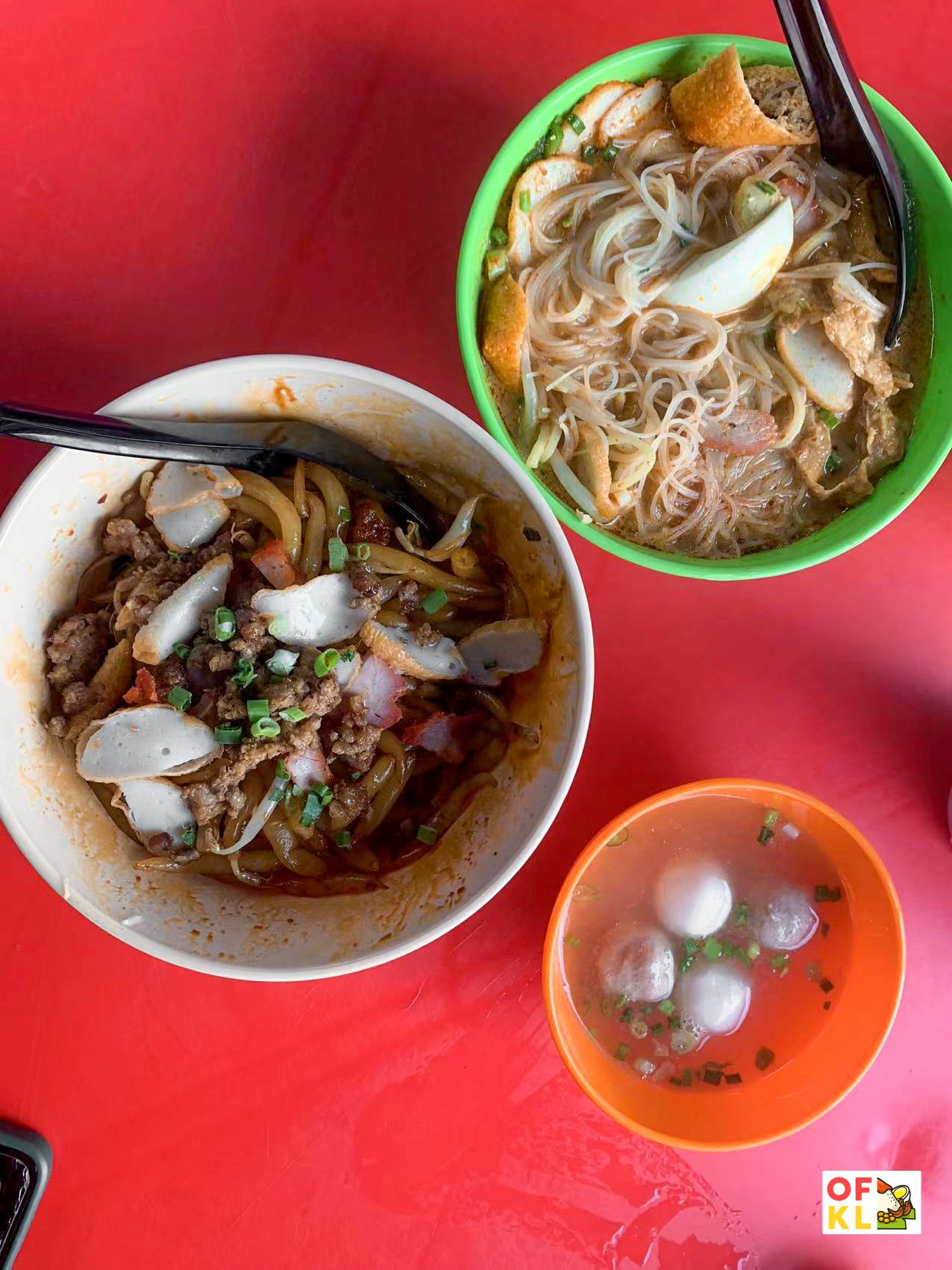 None of it stood out as bad, but they all definitely had room for improvement.
If you are someone who is really picky about the taste of your food, I wouldn't recommend this place because you would just find it very lackluster.
They get an overall score of 3 out of 5, placing them at an average by the OnlyFood KL standards.
Congratulations to them for passing the "test"!
---
---
Want more food? We got your back! Read this: